GALLERY: Unseen Beatles Footage From Magical Mystery Tour Webcast On The Space's Arena Hotel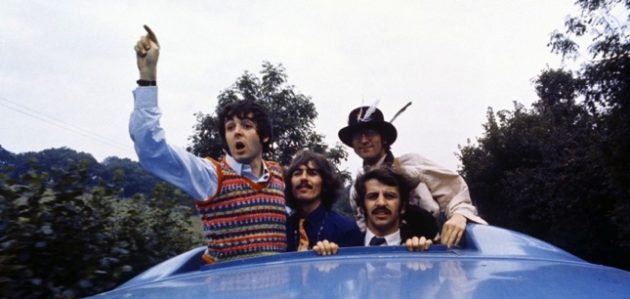 If you thought that the Beatles have been so pored over that there couldn't possibly be anything new to see, hear or read about them, guess again.  The former Fab Four's business concern, Apple Corps has granted the BBC TV arts series Arena unseen footage of the band.  Arena has cut this footage to make a short for its Arena Hotel online project with the digital-arts website The Space. Arena Hotel debuted the short exclusively on Tuesday.  A spokesman for The Space says the footage was shot during the making of a documentary about the Beatles 1967 Magical Mystery Tour film and features the band on "a coach trip to a classic British  fish-and-chip shop, en route to Newquay, the final destination of the tour." 
You can watch it here, but also be sure to check out Movieline's gallery of stills from the footage, along with shots of the band performing "I Am The Walrus" and "Your Mother Should Know."  (Really, she should.)  
Magical Mystery Tour was first broadcast by the Beeb on Boxing Day in 1967.  At the time, the trippy film confused stodgy audiences and critics, but appreciation of the groundbreaking production has appreciated considerably since then. (That said,  Magical Mystery Tour has been broadcast only one other time,on BBC Two in 1979.) The music to the film got a much better reception (and a Grammy nomination), although Rolling Stone magazine's review of the album in January 1968 consisted of a single quote from John Lennon:  "There are only about 100 people in the world who understand our music."
MOVIELINE GALLERY:  UNSEEN 'MAGICAL MYSTERY TOUR' ERA PHOTOS OF THE BEATLES
Follow Frank DiGiacomo on Twitter.
Follow Movieline on Twitter.