VIDEO: Passionate, Mostly Coherent Keith Richards Stars in New Reggae Doc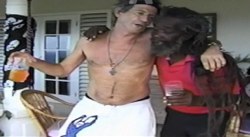 Who knew Keith Richards could be this coherent? A new 20-minute documentary, Wingless Angels: A Short Film, premiered online today and explores Richards' ongoing reggae music project Wingless Angels.
Apparently when the 66-year-old guitarist isn't touring with The Rolling Stones, he's creaking through slow jams with the locals: Richards befriended future Wingless Angels front man Justin Hinds after the Stones guitarist bought a home in Jamaica in the 1970s. Hinds, who recorded over 70 singles between 1964 and 1966, passed away from lung cancer in 2005 at the age of 62. This film documents the last music he'd would record. Richards recorded the band playing live in 1995, then produced and released Wingless Angles' first album in 1997 -- which is chronicled in the documentary.
Kidding aside, say what you will about Keith Richards, but good luck finding any contemporary footage showing the Stones meaning anything anything close to this much to him. Godspeed, good sir -- just enunciate a little more, if you don't mind.
[via ArtistDirect]