Law & Order: SVU Spanks Fifty Shades of Grey Author E.L. James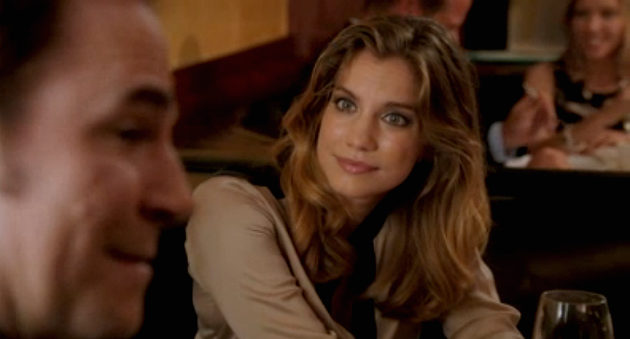 This week television's probing procedural Law & Order: SVU ripped inspiration from the headlines — or rather, the bestseller list — with a case involving the assault of the author of a Fifty Shades of Grey-style novel. (Starring My Girl's Anna Chlumsky!) But what's the takeaway here? What's L&O:SVU really trying to say to E.L. James?

Chlumsky guest-starred as Jocelyn Paley, a successful writer whose bondage-fantasy lit phenomenon, 25 Acts, has burned its way up the charts. "Her book makes Fifty Shades look like a Disney story," explains talk show host Adam Cain (Roger Bart), who then takes fantasies straight from Paley's book over the rape-y line. As they do each week, the L&O:SVU crew then sets out to seek justice.
But there's a twist! (Uh, spoilers.) Paley's not the real author of the kinky Fifty Shades stand-in, but has instead claimed credit and made a fortune off of someone else's writing. Plagiarism: Another shade of grey! (Ok, not really.)
In real life, James has tread both moral grounds. As Fifty Shades blazed a kinky trail through the suburbs and lady lit world, critics claimed its depictions of the BDSM community are off-base and promote regressive gender politics. Is protagonist Ana Steele an agent of her own sexual awakening or a pathetic young woman submitting herself to the irresistibly damaged Christian Grey?
The twisty question of authorship put on blast by L&O:SVU also has roots in James' phenomenal success. First penned and shared online (for free!) as Twilight fan fiction — minus the supernatural stuff, but with all of the emotional desperation — Fifty Shades of Grey became a commercial property when James stopped going by her message-board friendly AKA Snowqueens Icedragon, re-named her characters to avoid copyright infringement, and turned her lusty fanfic into a book.
So what's going on here, L&O? Does James owe more of a debt than she acknowledges to Twilight and the fan community that once welcomed her as their own? Are there repercussions to cashing in as James did without giving proper credit? Are the Law & Order writers not entirely objective in their deliciously entertaining, headline-ripping yarn-spinning?
Recall that cutting Law & Order: Criminal Intent episode inspired by Spider-Man: Turn Off The Dark featuring Cynthia Nixon as a wacko drunk Julie Taymor doppelganger?  Yeah, not judgmental at all.
I do hope that the producers of the in-development Fifty Shades of Grey movie take note of this L&O: SVU episode and, in some way, acknowledge the meta-fictional incest loop of it all, because by the time the film spanks its way into theaters we'll have dissected James' novel — and the phenomenon surrounding it — every which way already. And if the big-screen adaptation is just a straight, lightly erotic retelling of Ana and Christian's kinky courtship it'll all seem so... vanilla.
Oh, and one more thing:  When will Richard Belzer record his Fifty Shades of Grey celebrity narration?
Watch the full episode online here and wonder how long all this will be relevant as the  Fifty Shades of Grey movie keeps chugging along.
Follow Jen Yamato on Twitter.
Follow Movieline on Twitter.