The Only Animated 50 Shades of Grey Trailer You'll Ever Need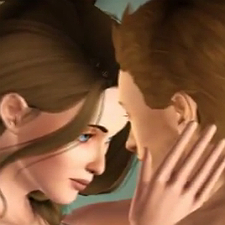 You've heard of the erotic bestseller 50 Shades of Grey. You may have even read a steamy passage or two here and there. But why torture yourself by actually reading E.L. James' florid-melodramatic prose when one animated fan trailer gives you all the essential need-to-knows — including the best-worst cringe-inducing scene of the book?

Now, there are a lot of cringe-inducing scenes in 50 Shades of Grey and its subsequent sequels, 50 Shades Darker and 50 Shades Freed, involving college grad/virgin Anastasia Steele and her handsome would-be boyfriend/BDSM master Christian Grey. (Spoilers ahead!)
This is because young Ana is a whiny pleaser who submits to bondage and spankings and such in the hope that she can cure the handsome deviant Christian of his kinky ways, and also because Ana is a naive young thing who can't work technology or remember to eat all by herself.
Which is how things like The Bathroom Scene come to bear. (Skip ahead to Chapter 23 if you're reading along at home!) Forget the whips and every-five-minutes sex and interior monologues between Ana and her "inner goddess" — here's a scene that explains the Ana-Christian relationship in a nutshell, in which he takes the liberty of yanking out her tampon so they can have sex.
(Courtesy of YouTube user Philiafelice, who strikes the right balance of incredulity and real talk in her breakdown of 50 Shades and its trashy appeal.) Splash!
I cannot wait to see how they even attempt to pull this off in the movie.
[philiafelice via @evafay]