GALLERY: 20+ Hi-Res Photos From RZA's 'The Man With The Iron Fists'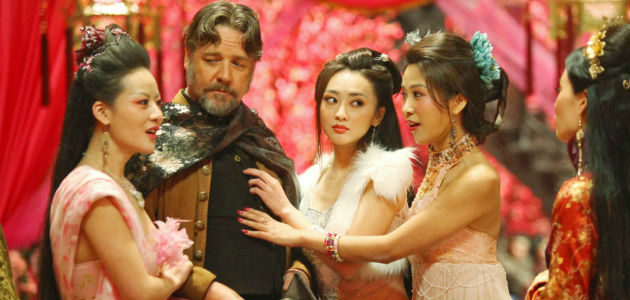 Under the tutelage of Quentin Tarantino, Eli Roth, and all those Shaw Brothers martial arts pics he devoured in his pre-Wu Tang days, RZA's put together a spectacular-looking kung fu actioner — and judging by the 20+ hi-res pics in Movieline's The Man With The Iron Fists gallery, it will be quite the eye-popping (and very, very bloody) affair.

Take, for instance, this gorgeous shot of Lucy Liu as femme fatale/brothel owner Madam Blossom.
Vibrant and sumptuous, it lends Liu (who proved her badass quotient in Kill Bill) the deadly grace of Hong Kong action goddess Cheng Pei Pei.
More clearly drawn are parallels between Blossom's house of alluring but deadly women, where the Blacksmith's (RZA) love interest Lady Silk (Jamie Chung) lives...
... and 1972's Intimate Confessions of a Chinese Courtesan:
And there's something fun about this set pic of RZA and co-writer/producer Eli Roth working with Russell Crowe on his kung fu — or, perhaps, his Ol' Dirty Bastard style?
Click images above or head here for the full Man With The Iron Fists gallery, which includes new looks at RZA, Liu, Crowe, Chung, and castmates Cung Le, David Bautista, Rick Yune, and more.
And stay tuned for Movieline's forthcoming interview with RZA!
Follow Jen Yamato on Twitter.
Follow Movieline on Twitter.