Richard Gere's Agent Says He's 'A Better Actor Than A Hunk' At Q&A With Alec Baldwin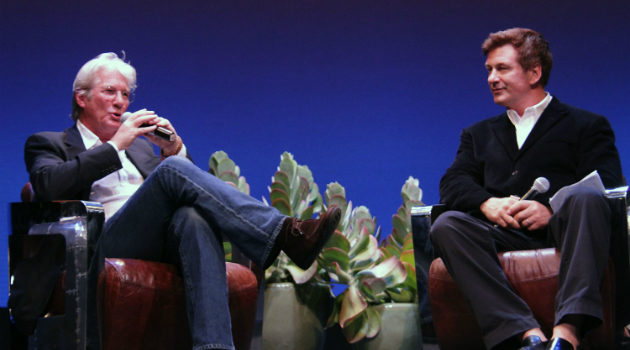 The scene outside East Hampton's usually civilized Guild Hall was almost as frenzied as a mosh pit on Saturday night when an overflow crowd turned up to watch Alec Baldwin interview fellow leading man Richard Gere. The spirited conversation, which focused mostly on Gere's pre-Pretty Woman career, was a precursor to the Arbitrage actor receiving the Hamptons International Film Festival's 2012 Golden Starfish Award for Lifetime Achievement in Acting.
Over the course of the discussion, Gere talked about some of  his more unusual moments working with such storied directors at Terrence Malick, Richard Brooks, Francis Ford Coppola  and Paul Schrader. For instance, he recalled his frustration working with Malick on Days of Heaven because of the lack of guidance that the filmmaker gave to his actors. Malick "is a really interesting guy," Gere said, "but one of his quirks is that he doesn't always know what he wants."  Indeed, during one frustrating scene, Gere said he found himself asking that very question of the director who then pointed to "linen curtains blowing" in the breeze of an open window.
"I meant like that," Gere said Malick told him, and in that case, the actor told Baldwin, "I knew exactly what he meant."
The silver-haired Gere also talked about Brooks' secrecy regarding scripts.  He recalled that when he asked the director if he could see the screenplay to Looking for Mr. Goodbar, Brooks invited him to his Los Angeles home, where the filmmaker's wife, actress Jean Simmons greeted Gere and led the actor to a "romantically lit room."  There, Brooks gave him a half hour to read the script, which Gere implied, was not enough time, until he discovered that Brooks had "blacked out everything that was not my part."
The discussion took an amusing turn when Baldwin brought up the subject of American Gigolo and asked Gere if he was uncomfortable about his emergence as a sex symbol. The actor replied that it was an "interesting dilemma" and eventually invited his WME agent Andrew Finkelstein, who was sitting in the audience, to join the conversation. (Finkelstein was an assistant to the late ICM agent Ed Limato, who worked with Gere at the time of that 1980 movie.)
Finkelstein replied that Limato  "didn't like" that the media was focusing on Gere's "hunkishness," adding:  "You were a better actor than a hunk."
The line drew a big laugh from the audience, and Gere, wearing a wry smile on his face said:  "I'm a better actor than a hunk. Thank you, Andrew."
Finkelstein recovered nicely by yelling out:  "Richard is now looking for an agent."
Shortly before Gere was presented with his Golden Starfish award,  Baldwin asked the actor if any of his leading ladies had ever fallen for him.
"Someone told me that one of them had, and I said, 'I wish they had told me!'" Gere replied. "But I'm not going to answer that question."
Follow Frank DiGiacomo on Twitter. 
Follow Movieline on Twitter.