REVIEW: Money, And Richard Gere, Fuel Fatalistic Financial Thriller Arbitrage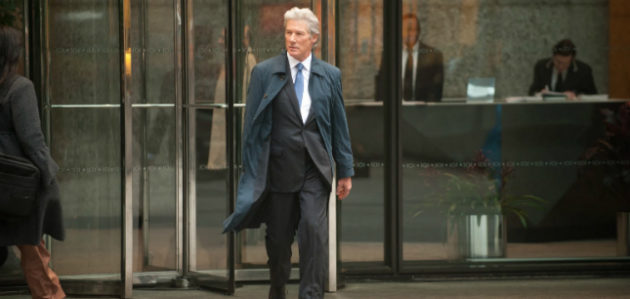 Billionaire Robert Miller (Richard Gere) is a cheat. He cheats on his wife (Susan Sarandon) with his mistress, and on his mistress (Laetitia Casta) with his job. And for his job as CEO of one of those mysteriously mighty hedge funds that control the world in Arbitrage, he'll cheat everybody: the IRS, his daughter and business partner (Brit Marling), the buddy who loaned him $412 million, and the fellow mogul Miller wants to acquire his company so he can, of course, spend time with his family, even though the idea confuses them. "I'm just trying to imagine what we would do?" laughs Marling.

Clearly, Robert Miller swims with those economic sharks who nearly ruined the world in 2008, and writer/director Nicholas Jarecki (brother of Andrew and Eugene) is going to make him pay. But not for his actual crimes — no one's going to jail for those — which means Jarecki has to invent a new sin.
And so, late one night when the roads are empty, Miller whisks his mistress toward his lake house. He falls asleep at the wheel, skids into the divider, and comes-to next to her fresh corpse — a bloody metaphor for the lives he's impersonally ruined, and a vicious end for Casta, a Normandy-born beauty so physically perfect there's literally a bust of her in every French town hall.
The quiet of the crash's aftermath is chilling; the only sound is Miller screaming. But then he thinks of the millions he could lose if the cops, investors, and his wife look harder at his life and makes the cold decision to abandon her body and rescue his reputation. Hey, what's a little furtive involuntary manslaughter to the baron of Manhattan?
With the overconfidence of someone who's Tivo-ed every episode of CSI, Miller calmly calls collect to Harlem and asks his ex-chauffeur's son, a young ex-con named Jimmy (Nate Parker), to meet him at a gas station and shuttle him back to the city, no questions asked. Meanwhile, Detective Bryer (Tim Roth) arrives at the flaming wreck and resolves to find out who was really behind the wheel.
This sounds like the set-up of a cat-and-mouse thriller. But Jarecki quickly establishes that Miller is screwed — the detective has him fingered by breakfast, and by lunch he's got Jimmy in custody and threatened with a 10-year sentence for obstruction of justice if he won't give testimony proving Miller's guilt. As Miller's lawyer warns, "The real world is different than television." So, too, is this movie.
Compared to an episode of your average television procedural, Arbitrage has double the runtime and half the suspense because Jarecki could care less about tension and theatrics. He doesn't even care about Casta's death — she doesn't merit a single emo flashback. Jarecki is only interested in one deeply cynical question: What justice is fair to a billionaire?
Money — not sex or death — is what fuels Arbitrage. It's Miller's excuse for refusing to confess (what's 10 years to one innocent man if it protects thousands of employees?), and it's what Miller offers Jimmy for his silence. Apparently, the going rate for a decade of jail time is $2 million, an insulting number considering it's also what Miller drops to squire Sarandon's status-conscious wife to a single Friday night benefit gala. And the detective's resentment for Miller's practically meaningless money is why the pinched and bitter Roth is so dogged about putting him in prison, vowing, "He doesn't get to walk just because he's on CNBC."
The performances are golden with Marling, Roth and Sarandon adding heft to their slender characters. It's smart casting to have Vanity Fair impresario Graydon Carter pop up as the tycoon Miller so desperately needs to impress. And as the under-attack Jimmy, Parker works hard to make audiences want to remember his name. But this is a showcase for Gere, who has spent his career playing men who can afford a good scotch. (With that head of expensive silver hair, he could never play a fry cook.) At 63, his features have turned to steel: his eyes are small and watchful, and with his good looks he seems aggressively aware that he only has a few more years to grope Laetitia Casta before he has to holster his penis like Harrison Ford. Here, he's at once charismatic and clueless, even getting a laugh when he asks Jimmy, "What's an Applebee's?"
Gere does his best to give Arbitrage an agitated energy, but Jarecki's fatalism works against the film. We can't root for Miller; instead, we watch with dispassionate interest how the fallout of his misdeeds affects his friends, business partners and family. The smart surprise is that frankly, some of them don't give a damn. Miller's millions haven't just corrupted him — they've corrupted everyone who wants a piece of him. And when Jimmy, the poorest and the purest in this ice cold drama, growls, "You think money's going to fix this?" we're forced to agree with Miller's genuinely confused response: "What else is there?"
Amy Nicholson is a critic, playwright and editor. Her interests include hot dogs, standard poodles, Bruce Willis, and comedies about the utter futility of existence. Follow her on Twitter.
Follow Movieline on Twitter.