TRAILER: Richard Gere, Susan Sarandon and Brit Marling and the New Greed in Arbitrage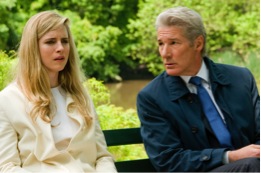 Richard Gere gets the golden line in this trailer for Sundance 2012's drama-thriller Arbitrage, the feature directorial debut from Nicholas Jarecki (The Outsider). "World events all revolve around five things, M-O-N-E-Y," he says, perhaps taking a cue from Wall Street's own philosophy courtesy of Gordon Gekko (though he preferred the more direct g-r-e-e-d).

Of course Susan Sarandon, who plays his wife has a zinger herself with, "How much money do we need? Do you want to be the richest person in the cemetery?" In the film, New York hedge-fund magnate Robert Miller (Gere) is the epitome of success, but behind the facade he's in way over his head. He's desperate to sell his trading empire to a big bank before the truth comes out, not only to colleagues but also his admiring wife and his daughter and heir-apparent Brooke (Brit Marling). And to complicate things further, he's carrying on an affair with a French art-dealer, Julie (Laetetia Casta).
But on the eve before he's about to sell his plague-ridden holdings, he gets into further trouble (as tipped off in the trailer below) and he must now juggle family, business and crime with the help of someone from his past, Jimmy Grant (Nate Parker).
The trailer seems to be pretty thorough in telling the story, so take a look. The only thing left is the final question: will he make it out from under the brink?
[The feature will begin its roll out September 14 courtesy of Lionsgate and Roadside Attractions.]