Focus Features CEO James Schamus Toasted And Lightly Roasted By His Former Partner Ted Hope At Hamptons International Film Festival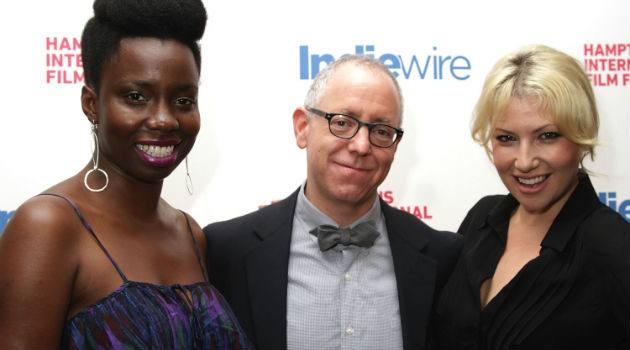 An invitation-only crowd at the Hamptons International Film Festival got schooled on"The Secrets of Schamus" — that's Focus Features CEO James Schamus — by his former producing partner Ted Hope on Friday night. Schamus, whose career includes screenwriting credits for The Ice Storm and an Oscar nomination as producer of Ang Lee's Brokeback Mountain, was the recipient of the festival's Industry Toast at East Hampton Point.
For A Good Time Call actress Ari Graynor emceed the event, which included toasts by Sony Pictures Classics Co-President Michael Barker and producer Christine Vachon and videotaped remarks from actor Gary Oldman, who got his first Oscar nomination starring in Focus Features' 2011 film Tinker Tailor Soldier Spy.  "He is a collaborator: an artist with his head in artists' clouds and a business man with his business feet firmly in the box office," Oldman said of Schamus before getting big laughs by poking gentle  fun at the Focus exec's mystique as a professorial indie-film rainmaker. (He's not just a studio executive, he's a Professor of Professional Practice in Columbia University's School of the Arts.)
"Did you know that he has won trophies for merely thinking?"  said Oldman, adding: "He's the only man ever to ace a Rorschach Test....Whenever he goes for a swim, dolphins appear....If he were to mail a letter without postage, it would get there."
Hope, who was honored with the festival's Industry Toast in 2006,  followed with a wry — and lengthy — recollection of his years spent working with Schamus at their seminal indie production company Good Machine. Under the guise of revealing the business "Secrets of Schamus" — which included "manufacture desire"  and "make them want to pick up your phone call" — he amused the crowd with tales of how his bespectacled, bow-tie-wearing partner repeatedly managed to outshine him.
"I've been a little competitive with James," Hope said. "It's hard to keep up with all those accolades."
The newly minted executive director of the San Francisco Film Society recalled how when they were bringing Nicole Holofcener's Walking and Talking to the Sundance Film Festival in 1996,  Schamus convinced him to put the $17,000 cost of a private plane flight on his credit card after their eleventh-hour commercial flight to Utah was grounded. According to Hope, when they learned that the private plane could not accomodate all of their fellow travelers, Schamus stayed behind, leaving his partner to pull an all-nighter in Sundance in order to sell the film to then-Miramax chief Harvey Weinstein.
The morning after the sale, Hope said, "I pick up the paper and see that James Schamus had sold the film to Harvey Weinstein."
Hope concluded his remarks by telling the crowd that when he got his business cards from the San Francisco Film Society, they read: "former partner of James Schamus."
Follow Frank DiGiacomo on Twitter.
Follow Movieline on Twitter.