Ang Lee Shares Emotion, Enters Oscar Race With Debut Of His Sumptuous Life Of Pi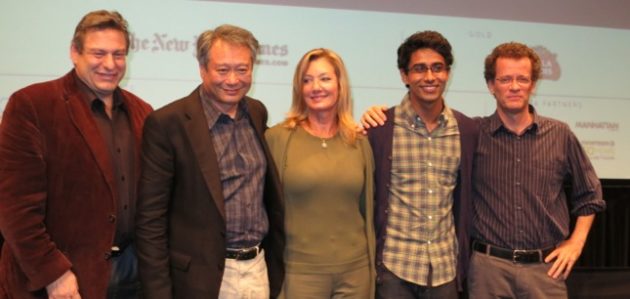 Years in the making, director Ang Lee was apparently still tweaking his ravishing Life of Pi up until the Friday morning pre-gala screening of his latest for press and industry Friday morning. The epic 3-D adaptation of the book by Yann Martel delivered a rare cinematic experience about a young Indian boy who endures a seemingly endless time at sea. Fox released visuals from the film during summer, but suppositions about what the film is about may be dashed — at least for those who have not read the book. One thing is predictable, however: Oscar night will certainly reserve some — and likely many — spots for Life of Pi, Lee will certainly be up for another Best Director nomination, and the feature will undoubtedly be up for Best Picture. The Film Society of Lincoln Center scored a coup debuting this spectacle on its opening night of the 50th New York Film Festival.

Also certainly in the running for accolades this awards season is the film's young star, Suraj Sharma, who Lee found for the title role of Pi after months of searching. He gives a stunning performance as a highly spiritual and introspective young boy who finds himself the only human survivor after his ship sinks during a violent storm. Along with him are a gaggle of animals, including an adult tiger. Previous teasers about Life of Pi suggested the young boy befriends the Bengal tiger, almost as if the audience is being set up for a human-wild beast version of Blue Lagoon.
In truth, their relationship is much more complex and those looking for a fantasy story with animals and humans living together harmoniously in paradise may be disappointed — this is not a South Seas 3-D version of Chronicles of Narnia. Still, a bond is established and they do happen on a sort of paradise island, but even that takes an unusual twist.
Much of the film, however, is set aboard a life raft and Sharma assumes the duty of carrying the movie emotionally and physically as he finesses his relationship with the tiger, named Richard Parker. To get Sharma ready to portray a man fighting to survive at sea, Lee had him meet American author and sailor Steven Callahan, who actually survived weeks in open water and lived to tell about it. He wrote Adrift: 76 Days Lost At Sea (1986), which was itself a New York Times best-seller
"I met him on a ship and it was raining with big waves," said Sharma at the Walter Reade Theater Friday afternoon. "I met Steve and didn't know who he was at that point. I found out he had survived 76 days at sea. He said you don't feel anything, most of the time you feel completely blank. So when you do feel emotions, they are very strong, very powerful moments. So I tried to [employ] that in my acting."
Initially, it was Sharma's brother who went after the part of Pi, but he was encouraged to audition as well. The process went on for six months and he received many call backs, but then he was asked to go to what he called Bombay (Mumbai) and his emotions turned. "I was really excited when I went there and gave a final audition," he said. "The first time I didn't think I did very well, and then Ang talked to me and made me breathe in particular ways that brought out emotion inside of me. And by the end of it I didn't even feel like I was acting anymore. I was just kind of an instrument of sorts."
After reading the novel Life of Pi, Lee said he found the book "fascinating" and "mind-boggling" but didn't think anyone in their "right mind would put up money for this," as he recalled today. Even author Yann Martel said that while writing the story he imagined it as "very cinematic in my mind" but he didn't think the complications the story posed would make it possible to make it into a movie.
"The literature is philosophy, regardless of how cinematic it is. And it would be very, very expensive and nearly impossible to do, and how do you sell this thing? I thought the economic side and the artistic side may not ever meet," said Lee.
Fox, however, did approach Lee several years ago and turning Pi into a feature became a possibility. "Elizabeth Gabler approached me and said it had always been their dream to work with me," said Lee. "Little by little, it started to become my destiny and my faith, so to speak."
"We knew we could never make this film without a superior 'guiding light' in our leader and the filmmaker that was actually going to bring it to life," recalled Fox 2000 head Elizabeth Gabler. "When we heard that Ang was possibly interested, I went to see him. And he said,' Why is it that a studio would make this? It's going to be a big, huge movie…I told him that audiences are always craving something original and new and we felt that under his directorship we would have something that could be extraordinary and new to the world in so many different ways."
While Gabler kept the budget under wraps, anyone who watches the film can easily see it must have gobbled up a hefty amount of money. Without providing a lot of detail, Lee said he spent a year animating a version of the story in order to communicate to his crew what he wanted, though once production began, circumstance ruled the day and Lee had to adapt to unforeseen challenges.
"Planning and improvisation took place. For a movie like this, nothing works the way you plan it, so you just have to go along. One time it took one week to get something done in my shot list. Often it took one or two days to get something done on my shot list. I have a dramatic background, so I don't usually use storyboards. The shots were so expensive for this, so I spent a whole year before making this movie to animate it so I could talk to the team about what it should be like. So, I wouldn't call it so much improvising as surviving."
Follow Brian Brooks on Twitter.
Follow Movieline on Twitter.