Lay Off Lazenby! An Appreciation Of The Aussie Actor's Performance In On Her Majesty's Secret Service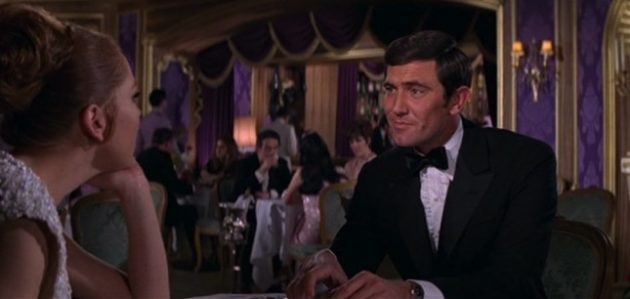 Is there a name more tattered in the annals of big-movie casting choices than George Lazenby?
Notice I say "choice" rather than "mistake," because for all the static about the admittedly somewhat wooden Lazenby's shortcomings, he managed to hold his own as the steady center of what James Bond fans have gradually come to recognize as one of the hidden highlights of the series, On Her Majesty's Secret Service.
His filmmaking peers vouch that although inexperienced and not always a day at the beach in terms of temperament,  Lazenby was ultimately a pro in his work habits and showed a confidence that enabled him to brazen through a rather daunting succession: replacing the world's favorite Bond while acting opposite one of the franchise's most memorable Bond girls.
That would be Diana Rigg as Tracy, the daughter of crime boss Draco (played by Gabriele Ferzetti as The Most Interesting Man In the World, 1968-style). "What she needs is a man to dominate her," Daddy D says of his daughter, but, before we get any comments from readers of The End of Men, be advised that Tracy is more than a match for Bond.  And it's not just because The Avengers goddess Rigg —that's the classic 1960s UK TV spy series, not the Marvel superhero costume party—is more than a match for Lazenby. It's because the rather sharp script derived from one of Ian Fleming's darker Bond sagas gives the debonair spy license to submit to her charms and depths. As Charles Taylor wrote of Rigg's Tracy in Salon nearly 15 years ago,  "Her presence enhances the whole concept of James Bond. For the first time, Bond has to prove himself worthy of a woman he's attracted to."
We meet Tracy (aka Countess Teresa) in the pre-credits action when her cardinal-colored Mercury Cougar zooms past Bond's ride. Although he prevents her suicide in the surf and beats down two thugs who try to grab her, she zooms away, leaving a gaping Lazenby to break the fourth wall and say, "This never happened to the other fella."
[Related: POLL:  Vote for Your Favorite Bond Film]
In the making-of featurette that's found on the Special Editon DVD and in the new 50th-anniversary box set, Lazenby calls that line "A way of breaking the ice," and he's right. Director Peter Hunt, who'd been an editor on previous Bond films, explains he had decided to accept that Sean Connery's departure from the role (which would then go on to Roger Moore, et al)  was a lurch. So, in order to "get on with it", he simply asked Lazenby to insert the line, which the model-turned-actor — in his first film role — had been tossing out occasionally on set.
It's a moment not unlike one in the early innings of The Bourne Legacy, when Jeremy Renner, taking over for Matt Damon, is trying to puzzle out his place in the franchise's deadly world. "You ask too many questions," says his fellow operative, surely a subtle reminder from writer-director Tony Gilroy that we should simply belt in and take the ride with the new guy.
Lazenby's ride was a turbulent one, thanks in part to his back-seat driving. From the start, the producers of On Her Majesty's Secret Service had problems calibrating the neophyte's  self-importance: Though he was a tough Aussie who'd been a soldier back home before moving to London in 1963 (where he initially worked as a car salesman), Lazenby  groaned about the cold Portugese surf that day he shot the pre-credits surf scene with Rigg. When he had an "I'm the star"  snit one night at the Swiss location where the film's spectacular ski chases were shot,  franchise kingpin Cubby Broccoli reminded him that he wasn't a star until the public decided he was.
That was never to be, of course.
Director Hunt decided after a frustrating hunt for Connery's replacement that  Lazenby "oozed sexual magnetism", and Rigg personally signed off on his casting. The film's cinematographer  rather hopefully avers  in the making-of  short that the filmmakers thought they had found the "ruthlessness of Jack Palance and the charm of Cary Grant" in Lazenby.
Alas, the actor's unfortunate wardrobe in the movie — color-coordinated ensembles,  bathrobes and frilly formal shirts — made him look more Austin Powers than James Bond, though a kilt Lazenby wears makes for a  good gag. After a girl in a mountaintop harem scrawls her room number in lipstick well up on Lazenby's left thigh, a henchwoman for Telly Savalas' marginally suave Blofeld asks Bond about his physical state after a rough chopper ride up.  In response, our hero admits to "Just a slight stiffness coming on."
Pages: 1 2