Which Action Stars Aren't Yet Attached/In Talks/Rumored for Expendables 2?
Earlier today came word that Chuck Norris and Jean-Claude Van Damme might be joining Sly Stallone & Co. for The Expendables 2 (although the reported cast listing at Millenium Films now reads "TBA"). Now it seems Arnold Schwarzenegger and Bruce Willis are onboard to reprise their cameos from the first film, with bigger parts this time around. (Expanded Expendables!) So let's just take a minute and regroup: Who isn't onboard or under consideration to join the beefy action sequel?
Original Expendables reportedly returning:
Sylvester Stallone (Duh)
Jason Statham
Dolph Lundgren
Mickey Rourke
Terry Crews
Jet Li
"Stone Cold" Steve Austin
Randy Couture
Arnold Schwarzenegger
Bruce Willis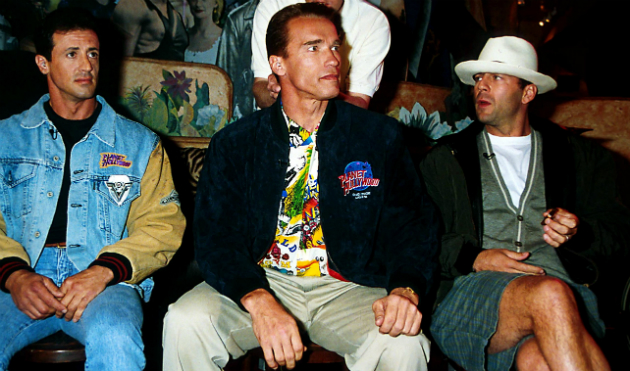 Finally, Planet Hollywood pays off...
Rumored new additions:
Chuck Norris
Jean-Claude Van Damme (Who missed the boat the first time around, so you've got to think he'd jump at the chance...)
Donnie Yen (This would be awesome. Just sayin'.)
Scott Adkins (Undisputed II)
Mr. T
Hulk Hogan
Carl Weathers
Vin Diesel
Dwayne "The Rock" Johnson
Charlie Sheen (Yes, really.)
Lorenzo Lamas
Jeff Speakman
Oliver Gruner
John Travolta
Okay, seriously... who's left?
Jackie Chan
Kurt Russell
Sean Connery (and Timothy Dalton and George Lazenby and Roger Moore and Pierce Brosnan)
Wesley Snipes*
Steven Seagal (Turned down the first film, but could use the image boost after tank-raiding some guy's puppy)
Tony Jaa
Michael Biehn
Michael Dudikoff
Michael Jai White
Those French parkour guys
Any of the kick-ass female action heroines of the last few decades -- Linda Hamilton, perhaps? I mean, seriously. What a sausage fest.
*Currently serving time, may not be out of the clink by start of filming.
Did I miss anyone? Any other potential Expendables out there? Remember, anyone who doesn't make it into Expendables 2 has an eternity of potential sequels to get in on. This is from the guy who made six Rockys and four Rambos, with room for even more to come. Sly's gonna be ripping throats and dodging bullets for years to come (whether you like it or not)!