You Think Scary Movie 5 Is Supposed To Be A Comedy? Check Out This Grisly Photo Of Sheen And Lohan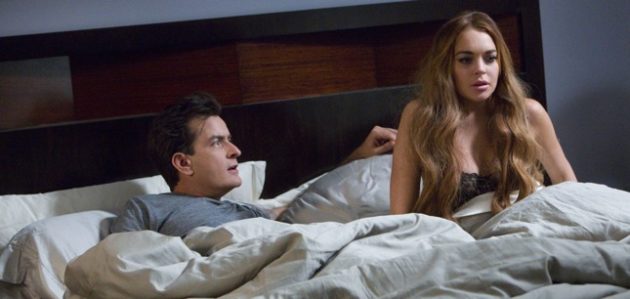 There will be Tiger Blood! Dimension Films has released the first official still from Scary Movie 5 and — yikes! — it has me cowering behind my fingers. I can't stop thinking about the hell spawn that would be unleashed on this world if Charlie Sheen and Lindsay Lohan actually hooked up and she got pregnant. The image also makes me think that if this movie does successfully re-boot the franchise and leads to a Scary Movie 6, the producers will attempt to top themselves by reuniting Kim Kardashian and Kris Humphries in a sex scene. Or maybe Humphries can don the white mask and dispatch Kanye West while he's canoodling with Kim. (Unnh, I just threw up in my mouth.) The movie, which is due out in 2013,  also stars Ashley Tisdale,  Heather Locklear and, the reason I'm going to see it:  the very funny Craig Bierko.
Follow Frank DiGiacomo on Twitter.
Follow Movieline on Twitter.