Bad Movies We Love, Rad Ghost Edition: Charlie Sheen In The Wraith (1986)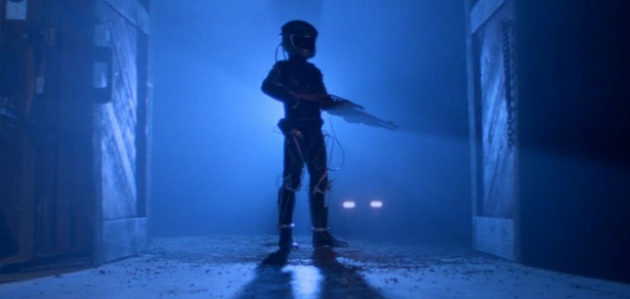 This August has brought us not one but two ghost possession horror flicks, in the form of The Apparition and The Possession, a double dose of the spooky scary ghoulish torment of nice, innocent people. Why do ghosts always come back to earth to do horrible, icky things? Why wouldn't they come back to do totally RADICAL things, like make out with hot chicks, race hot rods, and enact some vengeance on bad dudes, all in the form of Charlie Sheen in his prime? I would totally do that if I were a ghost. GUITAR SHRED!! That's right, get ready for the awesomeness that is the 1986 cult classic The Wraith.


The Wraith, from ski movie auteur Mike Marvin, is a sort of unholy mashup of Lost Boys, Near Dark, and 2 Fast 2 Furious: Tuscon Drift. Tall drink of water Nick Cassavetes (son of John and Gena, and the man responsible for bringing you The Notebook) plays Packard Walsh, the leader of a pack of slightly rapey Road Warrior reject tweakers on a mission to terrorize every dude with a sweet ride into a drag race for their titles. They're accumulating cars left and right, but Packard can't have the one thing he wants: the love of stone cold hottie Keri Johnson, as portrayed by living goddess Sherilyn Fenn, seen here before her iconic role as Audrey Horne on Twin Peaks.
Our spirit car (Ghost Car, as it shall be named) arrives by comet one desert evening, right around the time Packard and his cronies strongarm some wheels off the local Barbie and Ken. The next morning, Charlie Sheen rides a dirt bike into town sporting a denim tuxedo with no shirt. He comes across Keri waiting on the sidewalk outside her house, which is literally the only thing she does in this movie: she gets picked up and dropped off at her house constantly. This movie exists in the weird, no parents, no school world of the '80s where everyone appears to be of high school age but has jobs and no authority figures, so who knows? Maybe they're all 23.
The lovely Fenn is unrecognizable, her alabaster skin liberally spray-tanned a deep tawny, sporting a pair of white, stacked heel cowboy boots that I will dream about until I own. She jumps on the back of shirtless stranger Jake's dirt bike to head for the river (completely ignoring the "never go with Charlie Sheen to a second location" life rule), but stalker Packard just happens to be lurking in his Camaro and insists she ride with him.
Packard's sunbathing wear includes spotless white jeans, motorcycle boots and a leather vest, accessorized with puka shell necklaces and turquoise rings. (Guys, I am deeply obsessed with the fashions of this movie). His activities include creepily staring at Keri, Jake, and his new friend Billy, the little brother of Keri's old boyfriend Jamie, whose brutal murder has never been solved but definitely, DEFINITELY couldn't be totally is the gang leader creepily obsessed with Keri.
Sherilyn Fenn sort of famously got naked a lot in her early career, but that's no surprise because, damn girl, that body is bangin'. Of course, said bod is gratuitously exposed throughout the movie during various flashbacks to Jamie's murder, which happened as the two were getting it on in some remote cabin. Turns out mysterious Jake's got some scars on his back that look just like the ones Jamie received during his whipping. I'm still not really sure why Ghost Jamie takes the form of Charlie Sheen, even though they explain this away at the end of the movie when he simply says, "This is the closest I could get to who I was." OK. THAT MAKES NO SENSE.
Keri and Billy work at a burger joint called Big Kay's, which features scantily-clad waitresses dancing on roller skates to "Addicted to Love," and HOLD UP — is that "Dancing With the Stars" co-host Brooke Burke-Charvet?!?
The gang shows up to torment Billy, but they get distracted by the futuristic black on black hot rod (Ghost Car!) that leads them off to their favorite drag racing spot, the empty back roads of the Arizona desert. The gang members, a bunch of hydraulic fluid-guzzling numbnuts with a flair for creative eye makeup, are way, way better than they have to be. Clint Howard himself plays nerd auto-tech Rughead, and the rest of the gang, Oggie, Gutter Boy, and Skank display some real affection and genuinely committed performances.
After an exciting, viscerally shot car chase set to a direct rip off of "Danger Zone," Ghost Car pulls a fast one, causing Oggie to go crashing into him and then off a cliff in a fiery blaze. Then Ghost Car magically reassembles itself through the powers of animation! When highway patrol shows up it's too little too late for Oggie, who's had his eyes burned out from the Ghost Car Crash. We are introduced to to Randy Quaid, who chews the scenery while doing his best Dirty Harry as Lt. Loomis. Actual line: "Clam it, wise guy." All of his quips are PERFECTION.
From there, Packard continues to be a creepy stalker to Keri (he calls them "blood lovers" while licking his own blood off his hand), Ghost Car/Ghost Driver continues picking off the gang by murdering them in drag races, or by shooting up all the cars in the warehouse/autoshop where they hang out and listen to Billy Idol. Charlie Sheen disappears for the entire middle portion of the movie, leaving the heavy lifting to his stunt driver and helmeted/suited stunt man. I'm pretty sure he shot maybe three days on this movie, but he does show up for a dirtbike/car chase scene where they manage to hit every cardboard box within a 5 mile radius. Gutter Boy and Skank are amazing in that they give legitimately good performances imbued with some real heart while sporting shimmery pink eyeshadow and snorting WD-40. There is also an intense river make out scene where this exchange happens:
Keri: "I dreamed that the man in the moon was laughing at me."
Jake: "He does laugh all the time, you ever notice that?"
They both sound like they're on Quaaludes though, so I'm sure it made sense at the time.
Packard finally gets his race with Ghost Driver, which ends up involving both the highway patrol and some 18 wheeler trailers loaded with cars. It's a veritable Michael Bay wet dream! And who woulda thunk it, the race ends in a huge, fiery explosion with Packard splayed out nude in the wreckage, because of course the explosion blew all his clothes off.
Ghost Driver reveals himself as Jake, and then tells Keri he's Jamie (she's surprisingly cool/not at all surprised or weirded out that her dead boyfriend has reappeared to her in the form of Charlie Sheen), before he heads to Big Kay's to leave the TURBO INTERCEPTOR to li'l bro Billy, who, when he realizes it's his brother, repeatedly shouts "JAKE! JAMIE!" in the parking lot like he's auditioning for the little boy role in Shane. Keri hops on the dirtbike, Lt. Loomis shrugs his shoulders and she and Jamie/Jake ride off into the moonset. Off to where? California? Space?
So, if you're in the mood for something a little different than your average ghost/demon possession movie, I cannot recommend The Wraith enough. It's got everything you might need: heart-pounding action, Clint Howard, and Sherilyn Fenn's boobs. Forget The Possession, The Wraith is where it's at for the most RADICAL ghost movie this side of 1986.
Follow Katie Walsh on Twitter.
Follow Movieline on Twitter.