Lindsay Lohan Puts Gun To Her Head in Terry Richardson Photo Shoot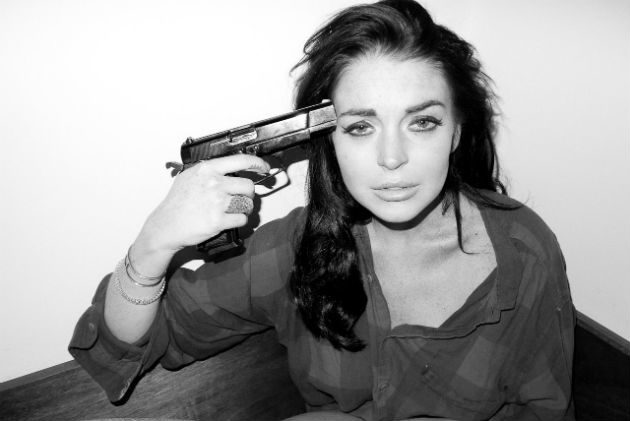 This week in ill-advised moves by would-be comeback starlet Lindsay Lohan: A photo shoot with skeeze-photography specialist Terry Richardson in which Lohan plays with what appears to be a real gun, putting it to her head and even in her mouth. Fun!

Richardson, who of late has cornered the market on jiggly Kate Upton coverage, posted the Lohan photos to his Tumblr "Terry's Diary" today but has since apparently taken them down. Of course, this being the internet, nothing's ever deleted fast enough, or permanently. The photos that remain up feature Lohan in a sheer bra, which might be headline-making enough on their own if the gun pics weren't so much more disturbing (via Oh No They Didn't):
After making their way around the blogosphere, the pics have disappeared from Richardson's Tumblr, and for good reason; this is the last thing Lohan's team needs as they attempt to explain away her brush with paramedics the other week, and her car accident before that. It's unclear when these photos were taken, though the original post says they were taken at the Chateau Marmont. And what does it mean? Cavalier art shoot or red flag?
Meanwhile, Richardson's Tumblr features a bounty of titillating artsy-exploitative photos and videos of Upton, including the palate-cleansing, strategically-featured distraction GIF entitled "Kate Upton getting out of a pool." And for more fun with starlets, you can see basically all of Paz De La Huerta (NSFW) as photographed by Richardson.
[Terry's Diary, Oh No They Didn't]