REVIEW: Video-Game Sensibility Of Resident Evil: Retribution Makes For Unsettling But Unsatisfying Experience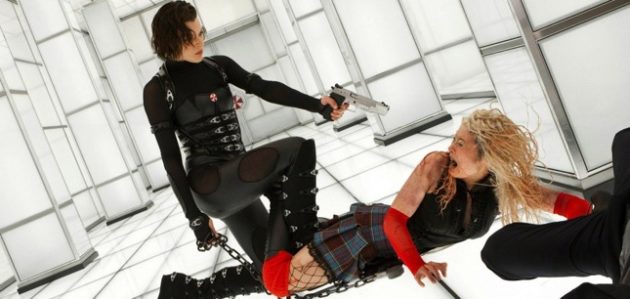 It's a big week for the filmmaking Paul Andersons. Paul Thomas Anderson's  The Master opened in a handful of cinemas in New York and Los Angeles, and Paul W.S. Anderson's Resident Evil: Retribution in theaters everywhere (in 3D and otherwise). While The Master offers up a immersive, abstract look at an unstable man being courted by the head of a cult-like movement, Resident Evil: Retribution in its own way also departs from the usual narrative confines of moviemaking. It's the closest thing you'll find yet to a recreation of a video game sensibility on the big screen — which is in line with the franchise's source material — and makes for a memorably unsettling if not particularly satisfying viewing experience.
Resident Evil: Retribution finds action star (and Anderson spouse) Milla Jovovich returning to play Alice, a former employee turned sworn enemy of the evil Umbrella Corporation. Considering how crazily far and, frankly, nonsensical the story has gotten from its start as the story of a weaponized virus infecting a secret genetic research facility, the film pays surprising attention to the basic premise before skimming over the developments of the more recent installments in an intro sequence. The series' ability to shuck off its own history is put on display in the initial action scene, which picks up where the last film left off: a slow-motion sequence of explosions and gunfire that runs backwards before lurching forward at full speed to neatly do away with the Arcadia and any other surviving characters on board.
Then again, who cares about those guys? The Resident Evil films have clearly become a continuing discombobulated nightmare belonging to Alice and Alice alone. Again and again, she seems to find safety, only to wake up in some new, terrible scenario in which she has to fight for her life. Resident Evil: Retribution takes this idea to its end point by being set in an underwater Umbrella-run base in which different test stages have been built for the company to demonstrate its bioweapons. All-white hallways string together life-size recreations of Times Square, downtown Tokyo, central Moscow and a suburban street. Each houses a scenario in which, at the bidding of the central A.I., swarms of infected humans, ax-wielding mutants or zombie soldiers will be released to attack.
Resident Evil: Retribution, in other words, has taken great pains to find a way to have real-life game stages. This sensibility extends to the way the film explains its mission — rendezvous with a rescue team and find a way out — and the way it provides weapons for its characters: armories rise out of the ground, or, in a sequence that demonstrates definite game logic, Alice looks in an abandoned cop car, heads to a nearby bike to take its chain, smashes in the window and adds both her new tool and a gun from the vehicle to her inventory.
This is even the case in the way actors from earlier installments in the franchise — Michelle Rodriguez and Oded Fehr — are folded into the film, thanks to Umbrella's fondness for cloning. A glimpse of multiple versions of Alice in storage also reinforces the idea that if she were to die, she could just respawn and start over.
Video games and movies have an uneasy partnership. The first Resident Evil is one of the best of a shaky history of adaptations from console to big screen, but the franchise has skewed toward the sensibility of the former medium rather than the latter in a way that's unique but tiresome. At its best, Resident Evil: Retribution feels like a series of elaborate cut scenes strung together, but much of the time it's a reminder of how incredibly unfun it can be to sit around watching someone else play without getting a chance yourself.
The film's extravagant action scenes have not a whiff of consequence to them, and other than Alice, the foremost quality of all of the characters is their disposability. A sequence like the one in which clones of familiar characters are put through an impossible test scenario is genuinely disconcerting in how it shakes up our perceptions of the reality of what's on screen. But even that becomes a reminder that bringing one of the traditional qualities of a video game protagonist — his or her qualified immortality — to a movie further strips any sense of human investment in the character. Any consistency on screen is entirely stylistic: there are no rules in this universe other than that Alice will battle on, defying gravity and physics and looking fabulous despite the world eternally ending all around her.
Follow Alison Willmore on Twitter.
Follow Movieline on Twitter.