REVIEW: Channing Tatum And A Sprawling Cast Get Nostalgic In Reunion Dramedy 10 Years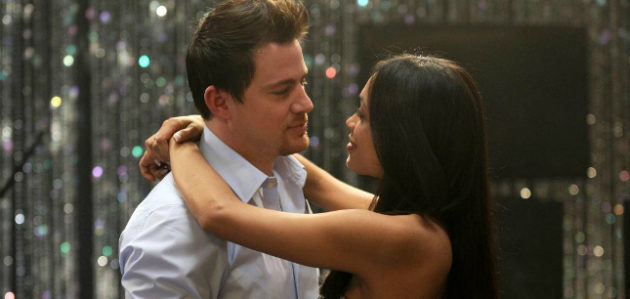 Channing Tatum goes back to high school — again — in Jamie Linden's 10 Years. This time, the only thing undercover is his longing for ex-prom date Mary (Rosario Dawson), which Tatum's Jake attempts to drink away before it catches the attention of longtime girlfriend Jess (Jenna Dewan-Tatum, Tatum's real-life wife, gamely playing second fiddle) and Mary's new husband (Ron Livingston). If you're wondering how two former flames could show up to a reunion unprepared to see the other coupled-up, the answer is eventually addressed: Jake doesn't use Facebook because he's "technologically ignorant." Behold, our brave new world of breaking bad news — online ignorance is bliss.

As a reunion comedy, 10 Years lacks the tits and ass of April's American Reunion, but subs in Chris Pratt's looming beer belly, which, either barely contained behind a button-up or proudly poking through a wife beater, is practically a character itself. Not that 10 Years needs any extra actors: Between Tatum, Dawson, Dewan, Pratt, Livingston, Justin Long, Max Minghella, Ari Graynor, Aubrey Plaza, Aaron Yoo, Lynn Collins and Anthony Mackie, this flick is a reunion for anyone who's laughed at anything — sitcom, movie, webisode, Abraham Lincoln: Vampire Hunter — in the last decade.
So it's too bad 10 Years isn't, you know, funny. At least it's well-meaning and nostalgic, rich in the tapestry of youth with its nods to Ol' Dirty Bastard, Digital Underground and the Goo Goo Dolls. Okay, Linden's references don't quite fit when this gang is supposed to have graduated in 2002, not 1995. But who cares about accuracy in a movie that pretends 35-year-old Collins and 26-year-old Minghella are the same age?
Everyone's got their issues: The uber-cute Oscar Isaac (who played Ryan Gosling's gangsta love rival in Drive) is a John Mayer-esque pop star getting swarmed at the reunion by his classmates' awkward wives. Geek girl Kate Mara is drolly unsurprised to have been forgotten entirely. Collins shimmies in a fake fur coat, desperately trying to live up to her character's party monster reputation, while Long is aghast that married Minghella is competing with him to take her to bed. Ex-prom king and queen Tatum and Dawson are swamped trying to convince their significant others that everything is, like, totes cool between them, and new wife Plaza is shocked to discover that husband Brian Geraghty spent senior year as a break-dancing Eminem wannabe, a revelation that trickles out after Mackie gasps his surprise that Geraghty wedded a white girl.
But the master of disaster is Pratt as the former school bully who's spawned two toddlers with his wife (Graynor) while also becoming her 6'2", 280-lb third child. Pratt gained 50 pounds for the role — give that man an Oscar! — and his drunken ex-jock spends the entire film lurching around on a one-person mea culpa mission, buying shots for the nerds he once tortured, practically forcing them into headlocks until they accept his apology. Pratt has played shades of this character before — the cluelessness, the swagger, the gluttony. But though he's got the type of role practically trademarked, here there's an unhinged pathos that makes his comedy almost painful, even when he's red-faced and smashing through the zero in the giant prom portrait stand-up 10 like a wasted Kool-Aid Man. Watching Graynor make apologies for his apologies, you seriously question they'll still be married at their 20th reunion — and if they are, how much worse off they'll be.
As the big day drags on from backyard barbecue to the main event to the local dive bar, half of the gang is having a semi-terrible time, but they're still able to cheer the highs, as when ex-pat Scott Porter trots out his Japanese missus (Eiko Nijo) for a karaoke duet. With the thrust of the movie behind Tatum's love quadrangle subplot, the dullness of which is cut with some sweet sincerity, good jokes get lost — like how Long starts off the night slipping a vodka-filled baby bottle in his pants to use as a flask. At least he gets the flick's best/worst moment of honesty, revealing that the model he boned back in Manhattan was actually — gasp! — plus-sized. "She's still a model, okay — she's still a model!" he growls.
Still, one question remains: Why have there been two high school reunion movies in the last five months? Or even more pointed: Why do both American Reunion and 10 Years take their cues from the '90s? Sure, American Reunion resurrected a cast that was formed in '99, but to make the math work, it had to pretend the pie-lovers were returning for an ultra-extravagant 13-year reunion, a number so odd I refuse to believe exchange student Shannon Elizabeth would really have bothered to fly back from Czechoslovakia.
Similarly, 10 Years' determination to place itself before the Bush Administration era borders on weird — the average age of its leads is 32, old high school photos show people wearing flannels and puffy jackets, and the soundtrack bumps Pharcyde. Why is no one actually nostalgic for 2002, aka The Year of Ashanti? Has the last decade been so sucky that we as a nation have decided to pretend it never happened? When even a movie that's literally about the last decade is uninterested in the last ten years of culture, we've all got to ask ourselves some questions. Or just make like Linden and crank up a cover of Smashing Pumpkins' "Tonight, Tonight" as we fade into the credits.
Amy Nicholson is a critic, playwright and editor. Her interests include hot dogs, standard poodles, Bruce Willis, and comedies about the utter futility of existence. Follow her on Twitter.
Follow Movieline on Twitter.