10 Years Trailer: Channing Tatum Hits His High School Reunion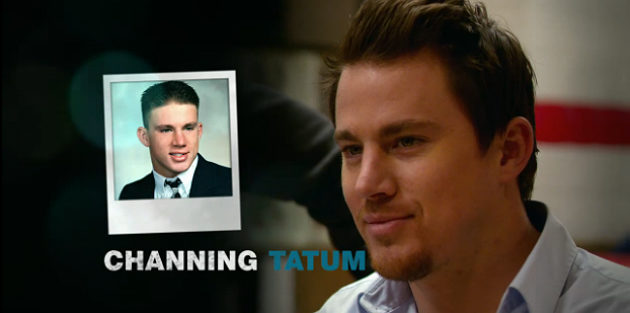 I'm sure Channing Tatum's real life high school reunion was just like yours: Equal parts awkward, fun, and harrowing, with a few Step Up-style dance-offs. Watch Tatum and a deep cast of fellow millennials like Anthony Mackie, Justin Long, Kate Mara, Chris Pratt, Aubrey Plaza, Ari Graynor, Rosario Dawson, and Jenna Dewan in 10 Years and be thankful that your totally '90s yearbook photos are safely tucked away in a dark, safe place and not being put on blast in a movie trailer.

Ten Years marks the directorial debut of writer Jamie Linden (We Are Marshall, Dear John) and is produced by Tatum and his Magic Mike partner Reid Carolin. With Tatum and offscreen wife Dewan playing his onscreen girlfriend, this is a Step Up reunion of sorts... and a Mackie/Brian Geraghty Hurt Locker reunion... and a We Are Marshall reunion... and a What's Your Number reunion... and a Dear John reunion...
Verdict: Vicariously living through other people's high school reunion > attending your own?
Synopsis (via Yahoo):
In this ensemble comedy, 10 Years follows a group of friends on the night of their high school reunion who, a decade later, still haven't quite grown up.

Channing Tatum plays Jake, who is deeply in love with his girlfriend (Jenna Dewan-Tatum) and ready to propose—until he runs into his high school flame (Rosario Dawson) for the first time in years. Jake's friend Cully (played by funnyman Chris Pratt) married his cheerleader girlfriend (Ari Graynor), and has been looking forward to the reunion so he can finally apologize to all the classmates he bullied in high school. However, after a few too many drinks, the jock-turned-family man ends up reverting back to his old ways instead. Meanwhile, longtime rivals Marty (Justin Long) and A.J (Max Minghella) spend the night picking up right where they left off, vying to impress the hottest girl in class (Lynn Collins). The famous one of the group, Reeves (Oscar Isaac) is now a rock star, but is still too shy to talk to his high school crush (Kate Mara.)

Written and directed by Jamie Linden, and produced by Channing Tatum, 10 Years also stars Brian Geraghty, Ron Livingston, Anthony Mackie, Aubrey Plaza, Scott Porter, Aaron Yoo and Nick Zano.
10 YEARS hits theaters September 14, 2012.