Channing Tatum, Serious Actor: The Outlook For America's Most Ambitious Beefcake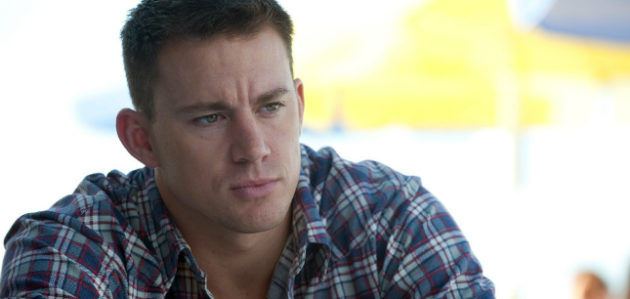 He may look like an impossibly chiseled slab of flesh – and, well, he is – but this past weekend Channing Tatum proved to America (and that foreign country called Hollywood) that he is capable of much more. With Magic Mike wildly overperforming at the box office to the tune of $39 million, it's time to acknowledge that this one-time piece of eye-meat has opened the door to a new chapter in his career. It's widely known that it was Tatum who approached auteur Steven Soderbergh with the idea for Magic Mike, as the film was inspired by Tatum's own experiences as a male stripper when he was 18. For as long as he's been entertaining audiences, Tatum has been seen primarily as nothing more than an object, but his aspirations are clearly to have a career that involves some brains, too. Below, we take a look at where one of the most buzzworthy actors in the world is headed, by way of his upcoming films.

The Bitter Pill
Tatum will appear opposite Rooney Mara in his next feature, which is apparently Soderbergh's penultimate flick. The film stars Mara as a woman caught in a love triangle between her husband (Tatum), who has recently gotten out of prison, and her doctor, played by Jude Law. Catherine Zeta-Jones and Vinessa Shaw round out the cast. The film is billed as a "psychopharmacological thriller," so whatever that means, expect a dark, gritty, intellectual tone, somewhere between Soderbergh's last two pics: Contagion and Haywire (which also featured Tatum). This is clearly a film that should enable Tatum to show off some acting chops once again, and going up against a natural talent like Mara is sure to bring out the best in him.
G.I. Joe: Retaliation
Well, the guy's got to put bread on the table, too. The last G.I. Joe film was woefully received by critics, but it made $300 million worldwide, enough to cover its $175 million budget (although with P&A expenditures and how revenue is divided, it's unlikely Paramount made real money on it). In any event, this is the side of Tatum we've come to expect to see – but how much longer he'll work these roles remains in question. Clinging on to action films for as long as possible is certainly a plausible route, but as the careers of co-star Bruce Willis or, say, Harrison Ford indicate, it's not always the wisest one.
Foxcatcher
This is a great example of the type of highbrow fare Tatum has had trouble breaking into (until now). A long-gestating project for Moneyball helmer Bennett Miller, Foxcatcher is based on the true story of an eccentric, schizophrenic millionaire who would up building an enormous wrestling facility on his property – and then killing a US Olympic team wrestler. Mark Ruffalo will play the wrestler, Tatum will play his brother, and Steve Carrell has been cast as the schizophrenic. It's obviously not the lead role, but visibility in a project like this – which could even be up for awards consideration – is a step in the right direction for Tatum's serious side.
White House Down
This, like G.I. Joe, is basically standard genre fare, albeit with a little more prestige: Tatum will play a Secret Service agent tasked with protecting the President (rumor has it Jamie Foxx will play the commander-in-chief) from an imminent terrorist threat. Maggie Gyllenhaal is also on board. The film will be going head-to-head next year with a similarly themed project titled Olympus Has Fallen, starring Gerard Butler. (Now that's a guy who needs a career makeover!)
Jupiter Ascending
The Wachowskis' follow-up to the hotly anticipated Cloud Atlas adaptation will be an original film whose concept makes Cloud Atlas seem simplistic. (If you haven't read Cloud Atlas, get thee to a bookstore!) The idea, in a nutshell, is that the film takes place in a world where DNA is the most highly prized commodity, and different strains of DNA enable humans to achieve different goals. One woman (Mila Kunis) has a perfect genetic code – too perfect! – and so bounty hunter Channing Tatum is dispatched to, well, dispatch of her. Unfortunately for the powers that be, they fall in love. Whether they succeed or fail, the Wachowskis always aim big, and this film has the potential to be a huge crowd-pleaser in the realm of Blade Runner or, of course, The Matrix.
Lego: The Piece of Resistance
Tatum will voice Superman in this animated film from Phil Lord and Chris Miller, who directed him in 21 Jump Street, another recent profile-booster that showcased Tatum's talents. Tatum hasn't done an animated film yet, so this is a smart expansion of what he's capable of from a business standpoint, as well as with regard to his personal brand; being able to appeal to kids helps soften him out from getting typecast as the guy in the action movies. Plus: It's Channing Tatum as Superman - LEGO Superman, but still.
The Contortionist's Handbook
This adaptation of a 2002 novel has been in development since 2010, but Tatum (who is also a co-producer) is still looking to get it made. Tatum would star as a forger and con artist who is constantly creating new identities in order to evade the law. There's no director attached, so it's tough to say which direction the adaptation might head in, but the novel was released to acclaim upon publication, and it sounds like it might turn into a passion project for Tatum.
Cast your own predictions for Channing Tatum's post-Magic Mike output below.
Zachary Wigon is a writer based in New York. His work has appeared in the New York Press, NYLON, and Filmmaker Magazine, among many other outlets. He tweets @zachwigon.