EXCLUSIVE: Jake Gyllenhaal On Cop Action Thriller 'End Of Watch' — Peña Is 'My Other Half'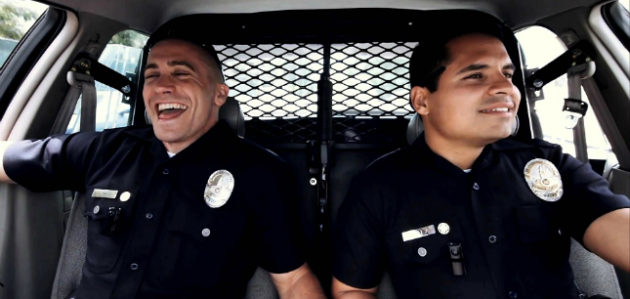 Thrown together for five months of real-life training and preparation — during which time they witnessed some harsh times, indeed, while preparing to play LAPD officers — Jake Gyllenhaal and Michael Peña put in extraordinary dedication to bring authenticity to David Ayer's End of Watch. In an exclusive featurette, the duo (along with Ayer and co-star Anna Kendrick) share their experiences making the gritty found footage cop drama (and love for one another): "[Peña] and I spent over half a year together, going through some of the scariest situations that I've been through in my life," says Gyllenhaal. "Mike's my other half."

The film, from writer-director Ayer (Harsh Times, Street Kings, Training Day), debuted at the Toronto Film Festival to strong reviews. (92 percent on Rotten Tomatoes — not too shabby.) Critics applaud Gyllenhaal and Peña's close, charismatic chemistry,an element obvious even from trailers and clips. Mark your calendars.
Synopsis:
Academy Award® nominee Jake Gyllenhaal and Michael Peña star in the action thriller End of Watch as young Los Angeles police officers Taylor and Zavala as they patrol the city's meanest streets of south central Los Angeles. The film creates a riveting portrait of the city's most dangerous corners, the cops who risk their lives there every day, and the price they and their families are forced to pay.
End of Watch is in theaters September 21.
Follow Jen Yamato on Twitter.
Follow Movieline on Twitter.