Jake Gyllenhaal's Life-Changing End Of Watch Prep: 'Someone Was Murdered In Front Of Me'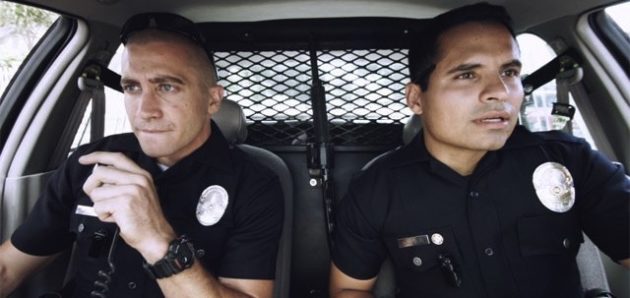 The Jake Gyllenhaal and Michael Peña starrer End Of Watch appears to have hooked audiences at the Toronto International Film Festival, where the police drama premiered. The fast-paced story of two LAPD officers who form a powerful bond as they patrol the mean streets of South Central Los Angeles required both actors to go through months of training and "ride-alongs" with L.A. and Inglewood police officers; the movie itself unfolds a liberal dose of gun fire, fights and some gruesome scenes. But on one patrol in the lead-up to the shoot, Jake Gyllenhaal experienced a true-life horror — a murder.

"On my first ride-along, someone was murdered in front of me," said Gyllenhaal in Toronto. "There was another officer initially on the scene. It was a drug [shoot-out] between gang members. I was probably the safest you can be. And yet I was at the forefront of the danger. There were moments on these ride-alongs when I was afraid. I was amazed with how LAPD took care of us. When there are two actors in the back of the car, you're an added responsibility and Michael [Peña] and I were very aware of it."
Gyllenhaal plays Officer Brian Taylor, who patrols the gang-infested streets with Officer Mike Zavala (Peña) in the Open Road film, which bows in theaters nationwide September 21st. Directed by David Ayer (Harsh Times, Street Kings), who grew up in L.A.'s long troubled South Central neighborhood, the action unfolds on screen through footage of handheld cameras shot from the P.O.V. of hand-held cameras by police officers, gang members, surveillance cameras, dish cams and citizen-caught images in the line of fire. While there are moments peppered throughout the feature showing moments of levity between the two officers that prompted outbursts of laughter in the Toronto audience, the scenes quickly turn to present a mosaic of dark violent streets, human trafficking, gang confrontation and a barrage of shoot-outs.
"For me, this movie was a journey," said Gyllenhaal who also has an executive producer credit on the film. " I spent five months preparing for this part. I went on ride-alongs with LAPD two or three times a week and was doing tactical training two times per week, and live ammunition training, as well as fight training, every morning. Everything was an internal journey for me. I don't pay much attention to the external world... It was about that internal ride for me. I have consequently made some of the closest relationships I've had in my life so far. It's safe to say they're some of my closest friends at the moment."
The building chemistry between Gyllenhaal and Peña's characters is central to the film. There were quiet whispers among some in Toronto who said that the two had difficulty in their relationship during the long process building up to the film, but Gyllenhaal said that their bond was something he made an effort to build and is happy that their chemistry is visible on screen.
"I'm most proud of the relationship between me and Michael. That took the most time to build," said Gyllenhaal. "Right now in my life, my focus is my work. It's what matters to me more than anything. The results of that are what the results are. This movie was a different approach to making a movie than I've ever experienced."
Along with the ride-alongs with police officers, the two trained together in fighting and with live ammunition. Gyllenhaal admitted that went it came to fights, Peña had the leg up.
"Every morning Michael and I would go to this dojo in [L.A. neighborhood] Echo Park and fight these kids. They were between 14 and 20 and they'd beat the crap out of me. Michael is a much better fighter than I am," he admitted.
Stay tuned for more on End of Watch and read all of Movieline's coverage of the Toronto Film Festival.
Follow Brian Brooks on Twitter.
Follow Movieline on Twitter.