End Of Watch's Red Band Trailer Doesn't Keep It Subtle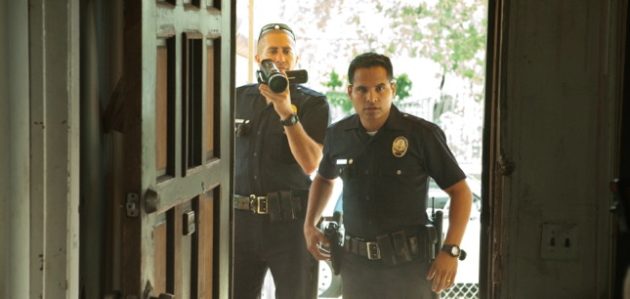 Jake Gyllenhaal and Michael Peña are two Los Angeles cops on patrol, though they clearly see more action than most. The two are on a hit-list after they after they happen upon a drug kingpin's stash of bling, guns and cash. The Toronto International Film Festival premiere just debuted its Red Band Trailer and a day-in-the-life of these policemen clearly does not involve traffic stops and jaywalkers - at least not that much.

The trailer starts off with a violent bust in what looks like a back alley and a decent dose of expletives (so be warned). A smooth-skulled Gyllenhaal and Peña continue on with their rounds in what looks like a part of L.A. that makes headlines but not of the Hollywood glam sort (unless it becomes fodder for a movie of course).
End of Watch also stars Anna Kendrick, Cody Horn and America Ferrera. End of Watch is directed by David Ayer, whose directorial debut Harsh Times also took place in South Central L.A. John Lesher produced the feature, which will be released September 28th in the U.S.
Synopsis: Academy Award-nominee Jake Gyllenhaal and Michael Peña star in the action thriller End of Watch as young Los Angeles police officers Taylor and Zavala as they patrol the city's meanest streets of south central Los Angeles. The film creates a riveting portrait of the city's most dangerous corners, the cops who risk their lives there every day, and the price they and their families are forced to pay.