Glee Meets Bring It On In Pitch Perfect: Elizabeth Banks & Co. Preview The Mash-Up Musical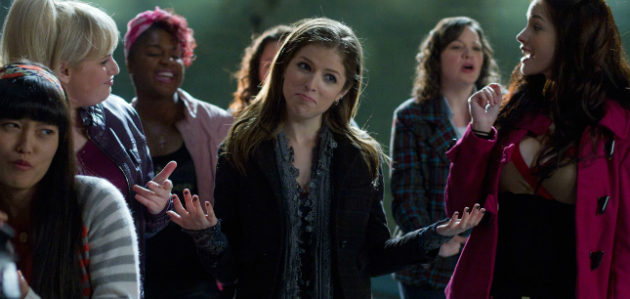 If you can appreciate a musical that unabashedly uses a 1996 Blackstreet jam as a communal rallying cry, then Pitch Perfect will be the most fun you'll have all year. (Also, we can totally be friends.) Producers Elizabeth Banks and Max Handelman, joined at an LA screening by cast members Brittany Snow, Skylar Astin, Alexis Knapp, Hana Mae Lee, Anna Camp, and Ester Dean, revealed how they first saw the potential in a nonfiction book about real life college a capella competitions – or, in the parlance of Pitch Perfect: The a-ca-drama.

In a post-screening Q&A with Just Jared founder Jared Eng, Banks and co-producer/husband Handelman explained that they were inspired by GQ editor Mickey Rapkin's nonfiction book Pitch Perfect: The Quest for Collegiate A Capella Glory. Based on the ups and downs of real a cappella college teams they developed the feature about Beca (Anna Kendrick), a loner college freshman and wannabe mash-up DJ who reluctantly joins the Bellas, a floundering all-girls singing group struggling to sing their way to the top. (Jason Moore, nominated for a Tony for the raunchy Broadway comedy-musical Avenue Q, directs; the script is by 30 Rock scribe Kay Cannon.)
Musical numbers abound as the Bellas and their all-male rivals, the Treble Makers, compete through the a capella season and face off on campus. In addition to producing, Banks also provides comic relief in the film as a seasoned a capella competition commentator alongside John Michael Higgins. "The part was meant for Kristen Wiig," Banks admitted.
The film brings Kendrick full circle back to her musical roots; years before making her film debut in the 2003 musical Camp – after which she earned fans from Rocket Science and the Twilight movies and earned an Oscar nomination for Up in the Air — she got her start on Broadway and was nominated for a Tony at the age of 12.
Skylar Astin, another Broadway-born talent best known for starring alongside Lea Michele and Jonathan Groff in the original cast of Spring Awakening, makes a big screen splash as Jesse, the classmate/rival who sings his way into Beca's heart. Being on set was "like an all-star theater camp," he said, before granting an audience member's request for a song by belting the theme to The Gummi Bears.
As the plus-sized foreign student who introduces herself as "Fat Amy," Rebel Wilson (Bridesmaids) steals scenes left and right ("I'm the best singer in Tasmania… with teeth"). Casting the character presented a unique challenge. "In the script the character is called 'Fat Amy,' so it's really hard to send it to actresses," Banks said. "Rebel recognized what an iconic character Fat Amy would be."
Chart-topping songwriter/singer Ester Dean, who's written for Nicki Minaj, Rihanna, and Britney Spears, shared her own unusual Pitch Perfect casting story: After lobbying for a voice part in Universal's The Lorax, Dean was sent to audition for the role of Cynthia Rose, the tomboyish maybe-lesbian member of the Bellas with a booming voice. She got the part and wrote Rihanna's "Where Have You Been" during the three-month shoot in Baton Rouge. (In a funny twist of fate she "covers" "S&M" in Pitch Perfect — a song she wrote herself. )
Meanwhile, co-star Brittany Snow, who tapped into her musical talents in Hairspray, plays one of two senior Bellas leaders who take a capella very seriously. Her favorite number? Singing Blackstreet in an empty pool during Pitch Perfect's riff-off, though she was envious that it's Kendrick who gets to perform the rap intro.
No diggity, no doubt.
Pitch Perfect opens on September 28.
Follow Jen Yamato on Twitter.
Follow Movieline on Twitter.