Musical Artists Jim Akin and Maria McKee Premiere 'Joycean' $550 Film, After The Triumph Of Your Birth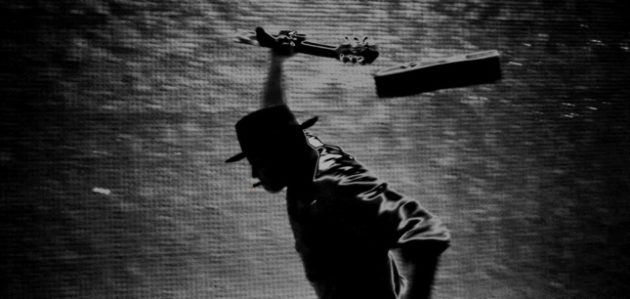 "Directing a movie is not that much different than producing albums. It's working with talent and guiding them," says Jim Akin,  who makes his directorial debut at 7 p.m. Pacific Time on Thursday with the premiere of After The Triumph of Your Birth at the Aero Theater in Santa Monica, California.
Akin is better known as the husband and bass player for singer/songwriter Maria McKee, formerly of the alt-country band Lone Justice. She co-produced the movie and co-wrote its score with Akin, and though Martin Scorsese once directed her in Robbie Robertson's "Somewhere Down The Crazy River" music video, she counts this as her first real acting role.
What's the movie about?  That's a tough question, Akin told me. "I've tried about a dozen times to come up with an answer, and I can't do it," he said.  So, he asked his wife to do it for him.
"It's been called a road movie on foot," said McKee. "It's been called a tone poem. My Irish friends said it was Joycean — a man's philosophical journey. And during his sojourning, he meets a number of surreal characters along the way."
Judging from the trailer, which is posted below, David Lynch and tough-guy poet Charles Bukowski are also influences, particularly when the protagonist is heard in voiceover saying: "I was a bystander doing a death waltz through the shit parade of suicide highway."
"I like the idea of a man working through his existence and his identity and his place in life, and trying to make peace with that," Akin finally volunteered.
That man is McKee's drummer Tom Dunne, whose story arc takes him from the desert to the ocean on foot. The characters whose paths he crosses are local actors and friends of Akin and McKee who, the first-time filmmaker said, "wanted to be part of the experience." Akin said that their generosity was one of the factors that enabled him to make the picture for the hard-to-believe sum of $550. "I did the writing, the shooting and the sound, the locations and the editing," he explained. "Maria worked with me on the score."
Akin added that he kept the production costs minimal because "I didn't want to borrow money or risk money because then I would feel more free about my ideas."
McKee, who plays a musician in After the Triumph of Your Birth calls the role "my first non-singing job in front of the camera," although she does perform "One True Love," which Akin wrote, at a piano, and an a cappella prayer. (She also sings on the soundtrack, on which Akin also appears as his recording alter ego, The Shootist.)
People have been trying to get me to act since I was 16," McKee said. "But I never wanted to be an actress per se because I wanted control over the material. My relationship with Jim is ideal. We were able to work together and shape the material in an intimate way."
After the premiere at the Aero, McKee and Akin will treat guests to a musical performance. If you can't make it, the movie will be available on DVD and Blu-Ray disc on Sept. 18.
Follow Frank DiGiacomo on Twitter.
Follow Movieline on Twitter.