Syrian Filmmaker Orwa Nyrabia Released By Government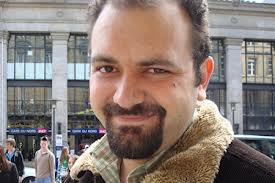 Orwa Nyrabia is free.  The Syrian filmmaker, whose Aug. 23 abduction by military security there prompted a long list of filmmakers to call for his release, was freed on Wednesday in "strong and good spirits," according to his family.

The filmmakers, who included Robert De Niro, Martin Scorsese, Focus Features James Schamus, Julia Meltzer, Yancy Butler, Judd Apatow and Alex Gibney, released a statement saying: On this day, we celebrate Orwa's freedom and fervently hope that thousands of other Syrians who have been similarly detained will also be given their freedom.
Nyrabia and his wife, Diana El Jeiroudi, founded the DOX BOX documentary film festival in 2008, which has been called the most influential in the Arab world.
Nyrabia's military abductors turned him over to a civilian court in Syria on Tuesday, which reviewed his case and freed him.
Follow Frank DiGiacomo on Twitter.
Follow Movieline on Twitter.