Trailering Judd Apatow's This Is 40: Middle Age Comedy Crisis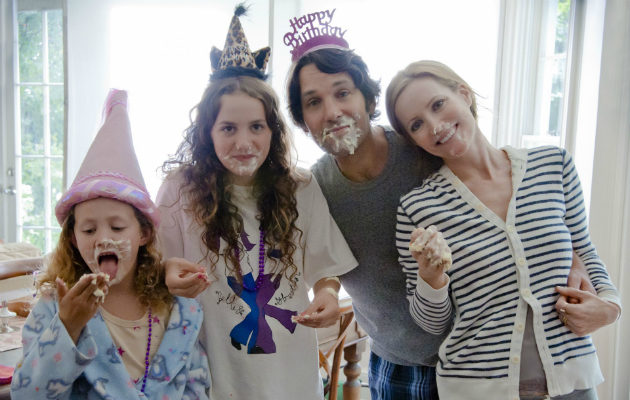 Considering its relatively mundane subject matter -- Paul Rudd and Leslie Mann's Knocked Up characters, Pete and Debbie, go into mid-life crisis mode when age 40 approaches -- there's a deceptive amount of classic signatures in Judd Apatow's This is 40. Yes, I'm talking about dick jokes. And boners and nipples and vagina tree rings and whatever it is that Rudd is gazing at through a mirror without his pants on. In other words: Comedy gold! Right?

Well, that'll depend on what kind of Apatow you're expecting from This is 40. Suburban married protagonists struggling with parenting and fitness and stuff is much more grounded terrain than Apatow's biggest hits. Not that it's a bad thing that Rudd and Mann's duo seem fairly realistic, considering; they were great foils to Seth Rogen and Katherine Heigl in Knocked Up, though This is 40 seems to mostly follow-up on Debbie's age-insecurity than Pete's hamstrung powerlessness.
We may not see Rogen or Heigl reprise their roles in the "sort-of-sequel," but Jason Segel returns, joined in the supporting cast by Lena Dunham, Megan Fox, Melissa McCarthy, Albert Brooks, Chris O'Dowd, John Lithgow, Annie Mumolo, the blond kid from Super 8, and real life Apatow-Mann daughters Iris and Maude. I'm just hoping Debbie goes back to that club with her new boner-iffic bod and gives Craig Robinson what for.
Verdict: This is... promising, but not a surefire slam dunk. Fingers crossed.
This is 40 hits theaters December 21.