TORONTO: Marion Cotillard Stirs Oscar Buzz In Rust And Bone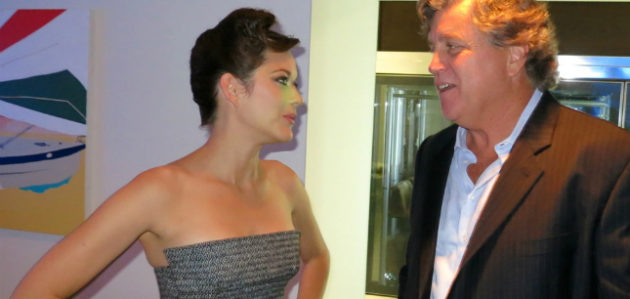 The Toronto International Film Festival is off and rolling. TIFF's official opening night is Rian Johnson's Looper with Joseph Gordon-Levitt, Bruce Willis and Emily Blunt... and all kudos to them, but Toronto is sharing the opening spotlight with Walter Salles' On The Road, a "surprise" event for Dredd, Rust & Bone — starring Gordon-Levitt's The Dark Knight Rises co-star Marion Cotillard — and others.

As TIFFers arrived in town, the tradition of a slow opening night ended. It was full tilt as events, traffic, schmoozing and gossip about what movie is good, what is less so, was well underway. One prognosticator even had the Best Female Actress Oscar noms already lined up (at least in his mind) — and one is Rust and Bone's Cotillard, pictured here with Sony Pictures Classics co-president Tom Bernard Thursday evening at a dinner hosted by Moet & Chandon Champagne at Michael's in downtown Toronto.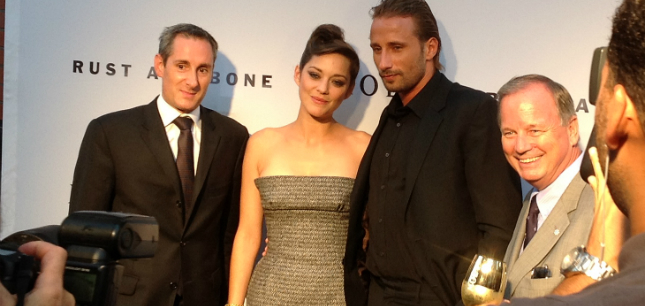 Of course no stranger to Oscar, the French actress won the Academy Award for Best Actress in 2007 for La vie en rose. She turns out another stunning performance in Rust & Bone, by French director Jacques Audiard, in which she plays a beautiful — naturally — woman who meets a club bouncer played by Bullhead actor Matthias Schoenaerts. Their chance meeting turns into a stronger bond that takes flight after an accident.
"I was very excited after reading the script," Cotillard said about her role playing Stephanie in Cannes in May. "When a script moves me, I find that I immediately understand a character. Of course not completely, but I do understand."
Read more from the Toronto Film Festival.
Follow Brian Brooks on Twitter.
Follow Movieline on Twitter.