Cannes: Marion Cotillard Leads Hard-Hitting, Well-Received Rust and Bone
It's perhaps much too early to prognosticate on Palme d'Or contenders, but Jacques Audiard's
Rust and Bone
has at least a decent shot at the festival's top prize if initial audience reaction following Thursday's press screening is any indicator.
Starring Marion Cotillard and
Bullhead actor
Matthias Schoenaerts, the film follows Ali (Schoenaerts), who is suddenly put in charge of his 5-year-old son whom he barely knows. Without money, he makes his way to the south of France, where his sister lives. Though she and her husband are short on cash, they take them in and Ali finds work as a bouncer at a local nightclub. There, a brawl leads to a chance meeting between Ali and Stephanie (Cotillard), a self-confident beauty whom he takes home after she's injured. While at work as an orca trainer in the days following, Stephanie suffers a life-changing accident and reaches out to Ali.
"I was very excited after reading the script," Cotillard said at today's press conference for the film. "When a script moves me, I find that I immediately understand a character. Of course not completely, but I do understand." Cotillard said she asked Audiard, who wrote the script with Thomas Bidegain (based on short stories by Craig Davidson), for help. "But he said he didn't fully understand her either, so we were going to get to know her together..."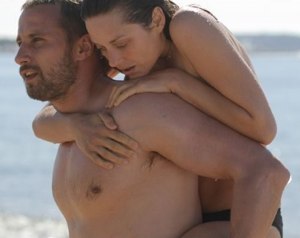 [OK, spoiler alert…]
While working at Marineland, Stephanie suffers an accident that results in her legs being amputated. Ali, who has only passed through life taking things as they come, helps Stephanie through her depression. To make money and exploit his natural physical prowess, he takes her with him to illegal fights where he's a champion and the two grow a bond. "Matthias is like working with DiCaprio or a Daniel Day-Lewis. He's of that ilk," Cotillard said as her co-star smiled nervously. "There are no words to explain it. There's this desire to explore which is something he very much has."
Indeed, if Rust and Bones is any indication, Schoenaerts may very well follow Cotillard's career path to studio gigs.
"There's a lot of stuff moving. There's stuff moving in the States, but I'm not in a hurry," he said. Screen reported Thursday he is in talks to star in Hans Herbots' thriller The Treatment. And Cotillard is teaming with fellow Oscar winner Asghar Farhadi (A Separation) on his next untitled film, spearheaded by Memento Films International.
Audiard also offered up his critique of both actors saying Schoenaerts' part almost went in a different direction. "When we finished the screenplay, I immediately thought of Marion," said Audiard, who last screened at Cannes in 2009 with his Palme d'Or front-runner A Prophet. "As for Matthias' character, we had originally thought of getting a non-professional actor — a boxer — but somehow it didn't work. It was too realistic. But then I was shown Bullhead, and it was so great."
Despite the presence of violence throughout his film work, Audiard confessed a distaste for brutality — though there are most definitely some raw fight sequences in Rust and Bone. "I have a problem filming violence honestly which is strange because all my films contain violence," Audiard said. "For this film we wanted the violence not to be too gory. I wanted Stephanie to admire [Ali's] courage during the fighting and if it was too gory, I think it wouldn't have worked."
Added Schoenaerts: " Reconciliation is the biggest theme in this film — man and woman, father and child."
"The characters in this story are going undergoing tremendous changes," Audiard continued. "Stephanie was an arrogant princess in the beginning of the story, but her misfortune causes her to re-examine herself. And Ali is going through a transformation too. He has a problem with words and relies only on his physical strength, but he learns simply to say, 'I love you.'"
Read more of Movieline's Cannes 2012 coverage here.