Spike Lee Talks Red Hook Summer, Religion, Michael Jackson, And Oldboy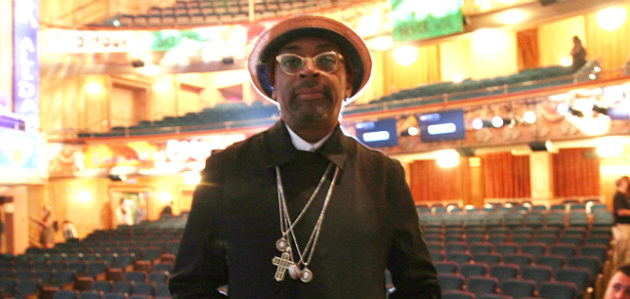 Back in January Spike Lee debuted his latest joint, the self-financed indie drama Red Hook Summer, to a divided reaction at Sundance — but as he tells Movieline, he had a feeling his controversial look at faith and the church in the projects of Red Hook, Brooklyn, would leave Park City without a distribution deal. This week, following a solid opening in the New York area, the film expands to Los Angeles and beyond via self-distribution specialists Variance Films: "What would be the alternative to this? Not having distribution. And that's not a choice. That's not even a consideration."

Lee spoke with Movieline last week in Los Angeles about his post-Sundance journey with Red Hook Summer, in which an Atlanta teen spends an eye-opening summer with his preacher grandfather in the projects, as well as his upcoming Oldboy remake — which will be shot on film, he promises — his Michael Jackson-centric Venice Film Festival documentary Bad 25, and more.
How has your journey with Red Hook Summer evolved since your Sundance debut?
Well, after we came back to Sundance my editor and former student, Hye Mee Na, we looked at the film and saw what we didn't need. Most of the stuff we cut was the storytelling stuff that Flik had done. The audience understands that he's making his documentary, so we don't have to see what he's filming. That's the bulk of what we cut out.
Was that in response to any degree to the critical reaction out of Sundance?
No, no, no — reviews had nothing to do with it.
Do you read reviews of your films?
Once in a while. But reviews had nothing to do with it. That was just Hye Mee and I looking at the film again once we got back to Brooklyn from Sundance.
You made quite a splash at Sundance — Red Hook Summer was one of the higher profile titles going in, not to mention the headline-grabbing quotes. But the challenge of taking an independent film to Sundance is then maintaining momentum in the many months that follow leading up to eventual release. What's been your approach to getting the word out? Has anything changed in your strategy since?
Well, even before I went to Sundance I began to get the inkling that we weren't going to get distribution out of it. But even with that reading of the tea leaves, it made sense to think about having to distribute this film myself, so I was thinking about it even before we went to Sundance.
Are you happy with how things have turned out, going the self-distribution route?
Oh, yeah. It's been great! Dylan Marchetti with Variance Films has been a wonderful partner, and I'm enjoying it. This is grassroots. There will be no TV commercials; there's not going to be a full page ad in the New York Times and that stuff. We're relying on good people like yourself to get the word out, and we're using social media. I'm making a lot of appearances at the screenings, like at BAM and at the Landmark Theater, and I'll continue to do that. We're just working hard — we had a very good opening in New York and we expand to a couple more theaters in the area, in the Bronx, Queens, Long Island, and some theaters in New Jersey, and the 24th is the next big one.
That's when we get it in LA. Would you recommend going this route to other independent filmmakers?
Yeah, but here's the thing, though: There are certain times when you don't have a choice. Let me ask you, what would be the alternative to this? Not having distribution. And that's not a choice. That's not even a consideration.
So thank goodness for alternative distribution models!
Yes! Yes, yes, yes. And with digital — before being so prohibitive, it cost so much to make the prints! Now these days it's digital and doesn't cost that much.
Do you feel an internal conflict, as a filmmaker and someone who clearly loves film, the divide between film and digital and how the landscape is rapidly changing?
Very few people are shooting film. I love film, and I'm going to continue to shoot film as long as I can. Oldboy is going to be on film, 35mm.
Fantastic.
But the specific circumstances [of Red Hook Summer] — I financed the film myself, we shot it in 18 days, and shooting on film would have made it prohibitive, bottom line.
Digital options are certainly a great thing for indie filmmakers with limited resources. But filmmakers like Chris Nolan, as a recent and well-publicized example, have come out crusading for film…
[Smiles] Scorsese was talking about it way before him! Come on now. [Laughs]
True enough! Now, going into Red Hook Summer, you have a great cast and got a particularly great performance from Clarke Peters as Bishop Enoch Rouse, who's such a commanding figure. When you watch the film on the big screen even now, do you still get transported by the magic of these moments?
Sure, that's why you cast them!
Do you have favorite moments within the film?
Can't do it. Sometimes you do a disservice to something to say that's my favorite this, that's my favorite that. But it was amazing to shoot — 18 days, three 6-day weeks, and Clarke did his thing.
There's a big moment in the film that is best left unspoiled, but why was it important to include this shocking revelation about one of your main characters?
Had to be there. I can't explain anymore without telling, but it had to be there — we brought it up, and if you're going to broach the subject… you can't just bring it up to bring it up. It was part of the story. James and I both felt this was something that was part of the story we were trying to tell.
Red Hook Summer raises larger questions about the role of the church in one's faith, in one's relationship with God. How would you describe your own views on religion?
Oh, I have a very personal relationship with God. It's personal! [Laughs]
There's a sign in the pulpit in the film behind Enoch that reads, "Trust in Jesus, Trust in God." As truths come to light later in the film, that sentiment seems to become more symbolic of a direct relationship with God than one perhaps filtered through church…
Do you believe in God? I believe in God. I don't go to church, though.
Are you skeptical of churches?
Depends on what church you're talking about. I've said this recently, but for me, I can't go to church that used to be a basketball arena and has 20,000 people, where you have to look at the minister on a Jumbotron. For me, I can't do that. I mean, I know people say a church can be anyplace. But still — they used to play basketball games at these places. The rodeo. Hockey. 20,000 people going to these megachurches? It works for them, they pack 'em in every Sunday. I'm just talking about me.
I'm curious about your teaching career at NYU.
Love it.
What made you first decide to start teaching?
Because my mother taught African-American literature, my father taught bass, my grandmother taught art, taught for 50 years, my grandfather was a substitute teacher. My whole family — I come from a long line of educators. You need teachers! You've got to be educated. No one should be walking around ignorant.
Dee Rees was a student of yours –
But the others are coming up, though!
What do you try to impart to your students most?
Tell your story. Learn how to tell stories.
You're executive producing the L.A. Riots movie, which Justin Lin is now directing. Why won't you be directing it yourself?
What happened is that the script I was going to direct, by John Ridley, was really epic, and now they're doing a very scaled, scaled, scaled down version. So they chose a different way to tell the story, but I'm executive producer.
Bad 25, your Michael Jackson documentary, is premiering at Venice and going to Toronto. What is it behind your relationship with MJ?
Love him! That's my man. I mean, I grew up with him. I was born in '57, he was born in '58. We're the same age, and I watched him grow up.
What's your take on what's currently happening with the Jackson family?
I can't comment on that. This is about the making of the Bad album, not the other stuff.
Well, it's nice to see you carrying on his legacy.
Sham'on! [Laughs]
Red Hook Summer expands in limited release this week.
Follow Jen Yamato on Twitter.
Follow Movieline on Twitter.