Spike Lee and Co. Talk Religion and Representation in Red Hook Summer
In his new Brooklyn-set drama Red Hook Summer, director/co-writer Spike Lee tackles the complex topics of religion and redemption within the modern African American experience, as filtered through the eyes of a spoiled Atlanta teenager (Jules Brown) forced to spend one hot, explosive summer with his preacher grandfather in the projects of Red Hook, Brooklyn. It's a richly conceived portrait of the Brooklyn neighborhood as microcosm for the black community at large, very much a Lee joint through and through. But, as the filmmaker reminded audiences this week at Sundance, where he railed against the Hollywood system, "it's not a sequel to Do the Right Thing!"

It's tempting to draw parallels to Lee's incisive 1989 Oscar nominated drama – he does, after all, appear in Red Hook Summer as his Do the Right Thing character Mookie (who's still delivering pizzas for Sal's, though he and Tina have parted ways). But fast forward to 2012 and there are new complications to be explored now that gentrification, secularism, reverse-migration, and the evolution of culture have altered the composition of the community – and Lee, with co-writer James McBride, seeks to explore every nook and cranny of this expansive 21st century terrain.
Into the evolving world of Red Hook comes young Flik (newcomer Brown), who resents the old-school rules of his grandfather, charismatic minister Enoch (Clarke Peters). A local girl (Toni Lysaith) helps Flik acclimate to the hood, but unexpected, volatile events shift this coming of age outsider tale into a polemic on faith, the church, and community that's proven difficult for some festival audiences and critics alike to swallow.
Lee, speaking with Movieline after the divisive debut of his film, wasn't worried about leaving some viewers unsatisfied. "There are a lot of questions in the film that we don't necessarily have the answers for, and I think a lot of the time that's good," he said. "I know there have been a lot of references back to Do the Right Thing, but one of the major criticisms of Do the Right Thing when it came out was that I didn't have the answer for racism at the end of the movie. But who has that answer?"
Red Hook Summer paints a picture, in vibrant colors and heightened dialogue, of a community anchored by faith and led by Peters' charismatic, Bible-thumping minister – the lone figure leading the charge against crime, apathy, and dissolution within the neighborhood. A pointed jab at Tyler Perry seems to declare Lee's intent to do better and be less jingoistic to the black faith-based crowd. Asked to declare his position on Perry, Lee paused. "I respect his business savvy. It's great." Still, he couldn't resist inserting a mock Madea poster into his film. "What, Fat, Black and Crazieee?" he laughed. "It's coming this summer to a theater near you!
Where Red Hook Summer goes in its last act makes it much more than a superlative version of a Perry film, suggesting that religion and blind faith can only go so far in tempering the ugliness of the world around us before personal accountability comes into play. "All one has to do, I think, is read a newspaper, because the marketing for this film is being done daily in the newspapers and on television," explained Peters. "What Spike has done is hold a mirror up to that for you to look into, safely, and make your own judgments and hopefully govern yourselves accordingly."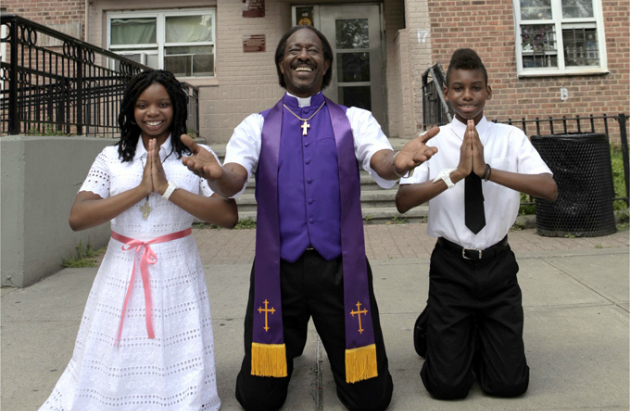 The nature of the film, and the scope of Lee's provocative vision for it, may explain why he says mainstream Hollywood studios balked at backing the project. "They know nothing about black people," he said at the Q&A following his Sunday premiere. "Nothing!" Striking out on his own, Lee financed and filmed Red Hook Summer himself, shooting over the course of a few weeks on location, using the church founded by McBride's parents as the film's central backdrop and casting his two young actors from local Brooklyn schools.
"Obstacles don't bother us," he told Movieline. "They've never bothered me. I've always been an independent filmmaker. Just because I did Inside Man, that doesn't mean I left it."
But the studios weren't the only ones hesitant about Lee's project; according to McBride, "a lot of actors [wouldn't] do it. They don't want to be affiliated with this kind of film." Even actor Nate Parker, who plays a former congregation member-turned-gang leader and also appears in George Lucas's Red Tails, was advised not to take the role. "People on my team said, 'Aren't you afraid that people won't want to work with you because you're only doing these types of films? Aren't you afraid that you'll miss your window?'"
"No," he continued. "We need to give ourselves more credit. We need to give the world more credit. To say that the world is so short-sighted that they don't want to see people like us – human beings doing human things? Religion is universal."
It's not just the citizens of the contained streets of Red Hook or Brooklyn who are primed for these re-examinations of faith. Co-scripter McBride on the one hand wrote Red Hook Summer drawing on his own history with the place, but he also hopes it's applicable to other communities. "There are a people who believe in God and need God badly, and there are people who deliver His word well, and who have some corrupt elements in their lives," he said. "This issue of religion is something that affects white people, in fact, probably more than black folks. Look at where we are politically in this country – look how the Republican party has fallen apart as a result of this religious zealotry, which is misguided and misplaced and used as a baseball bat to divide us."
And so, in the face of studio apathy, polarized reviews, and a collective reluctance to discuss faith and its place in life, Lee and Co. are something of an underdog force chipping away at a largely unspoken topic within a vastly underrepresented community. Still, the idea that Red Hook Summer will inspire discussion and debate is, perhaps, victory enough. "With a team like this I hope that we're on the scrimmage line all the time, moving that ball down the film inch by inch," enthused Peters, "because we can't do long passes! We've got to do it in increments. And this is just another bite into that."
Follow Jen Yamato on Twitter.
Follow Movieline on Twitter.
For more of Movieline's Sundance coverage here.