Stolen Trailer: Nic Cage Reteams With Con Air Director For A Nic Cage Heistacular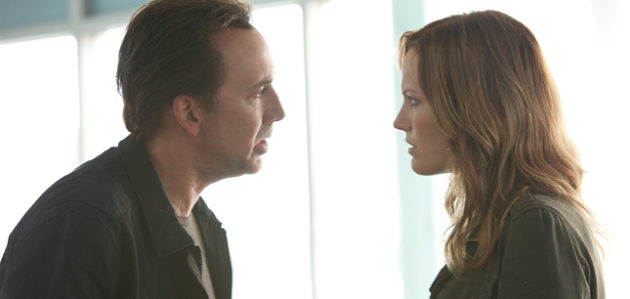 Nic Cage re-teams with Con Air director Simon West (Expendables 2) in Stolen, which is the most-est '90s-est classic Nic Cage genre vehicle we've seen in a long time. (Yes, but is it very nouveau shamanic?) The overly complicated plot involving a burned ex-partner and millions in stolen booty! The estranged daughter with an Anne Parillaud haircut! AND OH DEAR LORD IS THAT REALLY JOSH LUCAS OUT-NIC CAGING NIC CAGE? Sigh. It is. Your Friday Fun Time has arrived.

Oh yeah, Malin Akerman is in this (and threatens to turn in the best acting in the cast).
Two lingering thoughts:
A. Is it just me, or does this voice-over narrator pronounce Nicolas Cage like a total weirdo ("Nicolas Ca-aaage") at the 1:30 mark?
B. JOSH LUCAS WTF!? I can't even. If anyone needs me this weekend I'll be watching Sweet Home Alabama on repeat wondering how things could go so wrong over the course of 10 years.
Verdict: Folks, we've got to buy tickets and make this a hit so that poor Josh Lucas never has to go oily-skinned and straggly-haired again. EVER. Mmkay?
Director Simon West and Nicolas Cage re-team for the first time since CON AIR for STOLEN, a fast paced action thriller set during Mardi Gras in New Orleans. WILL MONTGOMERY (Nicolas Cage) is a master thief who after being double-crossed in a heist gone awry is sent to prison for 8 years. Upon his release he's ready to leave his criminal past behind and try to rebuild a relationship with his estranged daughter ALLISON. The FBI and his old cohorts believe that he hid the loot from the last heist 8 years ago, $10 Million in Bonds. To get his hands on it, his old partner VINCENT kidnaps Allison and demands the entire $ 10 Million as ransom. Keeping her in the soundproofed trunk of a Taxi Cab, he's able to stay mobile amongst the throngs of taxis out during Mardi Gras day making it nearly impossible to find. Montgomery only has one day to get the $10 Million ransom but much to the disbelief of the FBI on his trail and Vincent, Will doesn't actually have it. Instead, he must trust his instincts and his old partner in crime, the beautiful, sexy and smart RILEY, to do one more, clever heist to get his daughter back alive before it's too late.
[via Yahoo]
Stolen will hit theaters September 14, 2012.
Follow Jen Yamato on Twitter.
Follow Movieline on Twitter.