REVIEW: Josh Lucas Moors Himself in Grief In Clunky Hide Away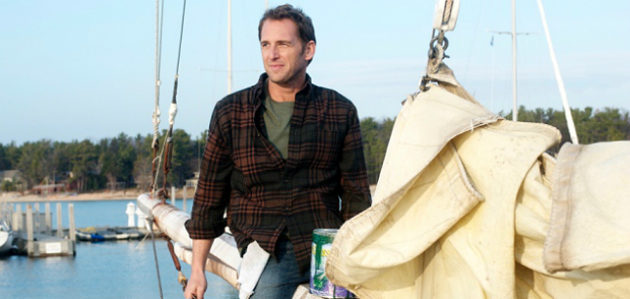 Filmmaker Chris Eyre made his name with his 1998 debut Smoke Signals, a delicate indie adapted from a short story by Sherman Alexie about two young men living on the Coeur D'Alene Indian Reservation who go an a road trip to retrieve the belongings of one's recently deceased estranged father. It was a small, wistful thing that offered a look at characters and a community that don't get a lot of time on screen. Hide Away, Eyre's newest work -- since Smoke Signals he's made four features that have mostly headed to TV — is in the same emotional vein as that first film, but heads away from the rez for a setting that's more figurative and characters that are more generic (by choice, though it's also a problem). It's a slender story of mourning that manages some lovely bits of mood while also being dreary and a little preposterous in its spareness.

Josh Lucas does a heroic amount to ground Hide Away in real feeling in the lead role, an unnamed man who is in mourning for reasons we slowly start to understand, one related to the wife and kids we see him with in gauzy flashbacks. "Are you divorced?" people ask him. "No, I'm not," he responds numbly. He's told by the man from whom he buys a boat at the start of a film that a lot of divorced guys apparently do what he's doing. He doesn't know anything about boats — what he's looking for is an escape, a refuge — which is why he ends up with a sailboat in barely functioning condition, the Hesperus, named for the evening star. Arriving in a black suit like he either fled straight from a business meeting or a funeral, the would-be mariner pokes around the decrepit vessel on which he plans to live, and starts learning his way around.
Hide Away, which was written by Peter Vanderwall, was shot and is set in a real place — on Grand Traverse Bay in Michigan — but the film strips away most identifying details, leaving the dock on which the man's ship is moored to seem like an outpost at the end of the world. The cinematography, by Elliot Davis, makes the place look fancifully lovely, with its still, reflective water and open skies, its winter storms and cloud banks. There's a town nearby — the man heads in sometimes to buy groceries or booze — but he doesn't really interact with it, having chosen solitude. A few people come and go around the dock, including a guy (Jon Tenney) who actually is divorced and using his recent boat-ownership to get women, but otherwise the man's alone.
Lucas is saddled with a lot of scenes in which he's by himself on screen, and for the most part does an admirable job of conveying someone who's so haunted by grief that he needed to leave the world behind without actually talking about what he went through. His moments of grief — staring out, sleepless, at night; drinking himself into a stupor at Christmas while lit-up boats past by — feel rough and believable, especially in the way he courts death by acting carelessly while never actually wanting to do the deed himself. Lucas turns the man's repair of the ship into a series of bits of physical comedy — running out of the shower after it breaks, trying to raise the sail, setting off smoke alarms when starting a fire in the stove. He makes the repetition of work into something believably soothing, makes it seem like a process through which you could genuinely start to heal.
But all the interactions the man has with the few visitors he encounters and friends he makes are leadenly infused with meaning. There's the beautiful waitress (Ayelet Zurer) at the restaurant by the dock who seems to have taken up residence there exclusively to offer comfort sex and a more maternal caring to the broken wanders who end up nearby. There's the older man (James Cromwell) who offers words of wisdom with regard to his own sorrow — it's "not a recipe I recommend a young man follow." There's the former work colleague (Taylor Nichols) who drops by to insist the man come back to his software company, offering to set him up to telecommute. And there's the pretty check-out girl (Casey LaBow) who inexplicably comes to him for shelter after her boyfriend beats her. The entire world seems there only to patiently nurture the man back to mental health — as if he's in some kind of extremely elaborate sanatorium in which patients are led to think that this whole recovery-by-way-of-fixing-a-sailboat thing was their idea from the start.
Hide Away has more clunky moments than it does elegantly minimalist ones, the worst of which is the glimpse of what actually happened to the man's family. It's over-the-top and unnecessary, given that we'd already gotten the idea about why the guy feels such guilt and grief. In shaping a film so deliberately around things left out, it would have been better to give the audience the benefit of the doubt and leave a little more mystery to the nameless man and his pain.
Follow Alison Willmore on Twitter.
Follow Movieline on Twitter.