Arnold Schwarzenegger Cameo 'Too Gimmicky' for Total Recall Reboot, Ethan Hawke Scenes Scrapped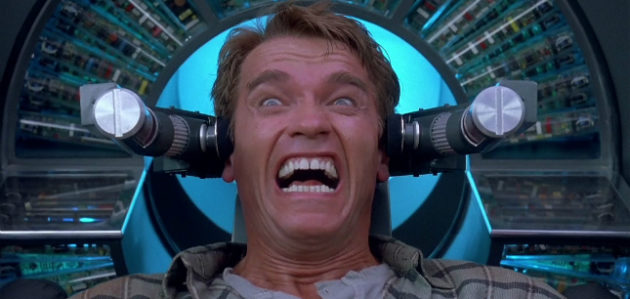 Friday's Total Recall reboot trades heavily on brand enthusiasm for Paul Verhoeven's original 1990 dystopian sci-fi actioner, but its makers had to be careful not to invoke too much of the Arnold Schwarzenegger vehicle. And cool as it would've been to see the former Governator pop up in the new, grittier reimagining starring Colin Farrell, Jessica Biel, Kate Beckinsale, and Bryan Cranston, director Len Wiseman (Underworld, Live Free or Die Hard) explained to Movieline why he chose not to indulge his inner fanboy.

"There was talk about it very early on, and the kind of teenager in me fan was very tempted by it," Wiseman said of the possibility of a Schwarzenegger cameo. "But the further we got into production on it, I just thought it would be too gimmicky. I wanted the movie to be its own movie."
The tonal difference between the original Total Recall and Wiseman's is one reason why such a wink-wink nod might have distracted audiences too much. "I had to kind of check myself," he continued. "How often had I seen that happen where I really thought it worked well? I haven't, actually. It refers to itself in such a gimmicky way that I think it just takes you out of the movie."
Another would-be stunt cameo that almost made it into the Total Recall reboot was a brief appearance by Ethan Hawke, who was widely reported last year to be contributing a mystery performance to the film. Hawke even filmed his scene, which was said to include a five-page monologue.
[KINDA-SPOILER ALERT] Producer Toby Jaffe spilled the beans, revealing that Hawke had been brought in to play a version of Farrell's character Hauser, who subsequently undergoes the mind wipe and a face lift and wakes up sans memories as Quaid. "Ethan plays who he was before they wiped his mind and changed his face," Jaffe told ScreenRant during production. [END SPOILERS]
Hawke's scene, however, did not make it into the final cut. As Wiseman told Movieline, "it was deleted, as many scenes were, for pacing and what have you." But he also says Hawke's footage could make it into the film's eventual DVD/Blu-ray extended cut, although exactly how remains to be seen.
As for Schwarzenegger, who's back in the acting game post-politics and has Expendables 2 coming out two weeks after Total Recall, Wiseman was hopeful Arnold would eventually see the film: "I'd love him to see it."
Stay tuned for more with Total Recall's Kate Beckinsale and Len Wiseman.
Follow Jen Yamato on Twitter.
Follow Movieline on Twitter.