WATCH: The Dark Knight Rises Teases 13 Minute Behind the Scenes Featurette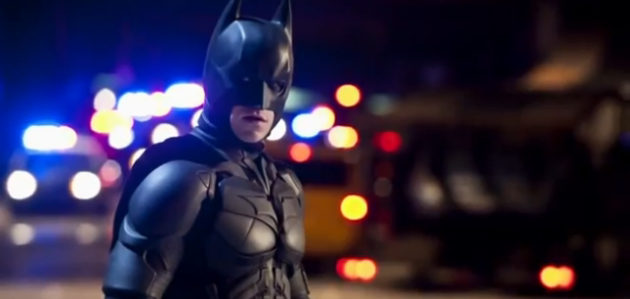 The first reviews of The Dark Knight Rises won't hit for at least another week, but Warner Bros. keeps putting out tantalizing looks at the Chris Nolan-directed trilogy-ender. If you're one of the legions of Bat-curious fans out there hungry for new peeks at the superhero finale, you'll find a host of new images and behind-the-scenes footage in a newly released 13-minute featurette for The Dark Knight Rises. Go ahead, treat yo' self.

Nolan, producers Chuck Roven and Emma Thomas, and stars Christian Bale, Anne Hathaway, and Tom Hardy among others pop up in the featurette to add their observations from the set (many nuggets of which made their way into the 50-page production notes recently unveiled online). In the clip, Nolan calls TDKR a story of "the elemental conflict between good and evil," before the piece goes on to explore the moral battle lines drawn in the flick and where each of its characters stand.
Among the more interesting tidbits: Nolan's description of his superhero pic as his way of harkening back to the silent film era and the epic scale filmmaking of olde: massive sets, armies of extras, spectacle cinema at its burliest. Watch as Nolan gives direction thousands of feet in the air to four stunt men dangling from a piece of airborne fuselage, or builds a fake football field on top of Pittsburgh's Heinz Field for that impressive destruction sequence, or orchestrates a full-on Wall Street brawl, and you see the kind of experience he's talking about.
The Dark Knight Rises rises on July 20.