The Dark Knight Rises — To IMAX, Or Not to IMAX?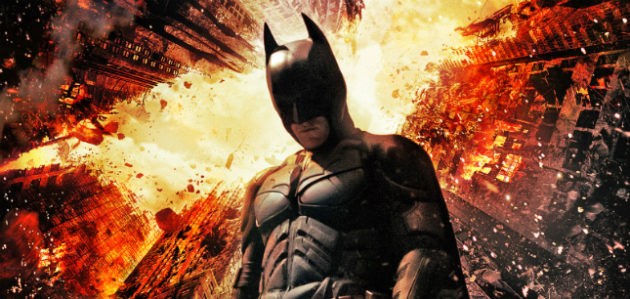 July 20 is the summer's most anticipated date for Bat-fans, but if you haven't yet pre-ordered for The Dark Knight Rises you might want to hop on the IMAX train and snag your ticket before too long. Why? With over an hour of footage shot with IMAX technology, Chris Nolan's trilogy-ender is set to blow minds in the larger format. And that could make the IMAX experience worthwhile.

Personally, I'm not an IMAX diehard (same goes for 3-D — obviously — though that can be done well on occasion). When it comes to Nolan and Wally Pfister's meticulously crafted movies, however, color me interested in watching a movie in the intended format. With TDKR, I find I'm willing to spend a little more and get to the theater early enough to snag one of the dozen or so prime seats in the theater that don't make me want to gouge my eyes out. (Seriously, have you ever been stuck in the nightmarish peripheral edge seats of an IMAX theater?)
Of course, TDKR is pretty much the exception for me, though watching Tom Cruise scale the Burj Khalifa and whatnot was a thrill; I won't go IMAX if I can help it otherwise. Who needs the headache, both literal and figurative? I'm hoping that The Dark Knight Rises will live up to the hype — Tom Hardy's Bane already promises to be a hulking, monstrous entity leaping off the screen even without being the size of a building.
The folks at IMAX want to make sure you don't forget that Nolan & Co. went to the trouble of filming an hour of Batman's last outing in IMAX (full press release follows). So who else is sold on Bat-MAX? Or The Hobbit in 48 fps? Hell, Douglas Trumbull wants us to watch movies on giant screens at 120 fps, projected more brightly than ever before. By comparison, IMAX seems like an utterly conventional next step in movie-watching.
Los Angeles, CA – June 11, 2012 – Tickets are now on sale for the IMAX release of The Dark Knight Rises, the third film of the critically acclaimed trilogy that introduces Gotham City's newest super villains, Bane and leading lady Selina Kyle. Director Christopher Nolan's highly-anticipated epic conclusion hits IMAX theatres worldwide day-and-date with the traditional release on July 20.

While making the 2008 blockbuster The Dark Knight, Christopher Nolan was the first filmmaker to use IMAX® cameras in a major motion picture release. Nolan employed the extremely high-resolution cameras even more extensively on The Dark Knight Rises: The IMAX Experience® —including the film's prologue — incorporating a record of more than an hour of footage filmed with IMAX cameras. These specific sequences, which will expand to fill the entire screen exclusively in IMAX, will deliver unprecedented crispness and clarity and a truly immersive experience for moviegoers.

"Director Christopher Nolan, Producers Emma Thomas and Chuck Roven, and Cinematographer Wally Pfister's cinematic vision is unparalleled and continues to set the bar for excellence," said Greg Foster, Chairman and President of IMAX Filmed Entertainment. "They are long-term partners and we're happy to team with them and our friends at Warner Bros. to offer IMAX fans an opportunity to experience this highly-anticipated conclusion to the Batman trilogy the way it was meant to be seen – in IMAX theatres."

Sequences shot in 35mm have been digitally re-mastered into the image and sound quality of The IMAX Experience® with proprietary IMAX DMR® (Digital Re-mastering) technology. The crystal-clear images coupled with IMAX's customized theatre geometry and powerful digital audio create a unique environment that will make audiences feel as if they are in the movie.

Leading an all-star international cast, Oscar® winner Christian Bale ("The Fighter") again plays the dual role of Bruce Wayne/Batman. The film also stars Anne Hathaway, as Selina Kyle; Tom Hardy, as Bane; Oscar® winner Marion Cotillard ("La Vie en Rose"), as Miranda Tate; and Joseph Gordon-Levitt, as John Blake. Returning to the main cast, Oscar® winner Michael Caine ("The Cider House Rules") plays Alfred; Gary Oldman is Commissioner Gordon; and Oscar® winner Morgan Freeman ("Million Dollar Baby") reprises the role of Lucius Fox.
More on TDKR in IMAX here.