David Hasselhoff: I Was 'The Ultimate Nick Fury'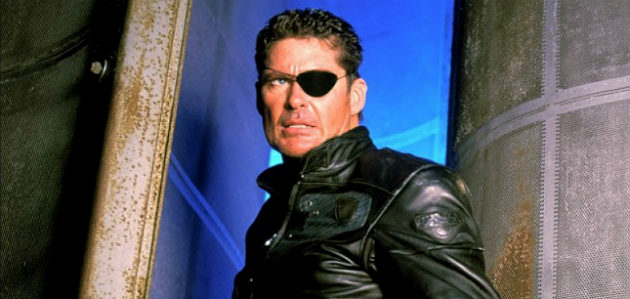 Although Samuel L. Jackson has played S.H.I.E.L.D. agent Nick Fury in Iron Man, Iron Man 2, Thor, Captain America, and the record-breaking Avengers, his portrayal of the cigar-chomping Marvel Comics government agent isn't definitive to everyone. Like, say, to David Hasselhoff — Baywatch legend, Knight Rider icon, and star of the upcoming Piranha 3DD — who donned Fury's signature eye patch and scowl in his own 1998 telefilm, earned Stan Lee's blessing, and claims that his is the "ultimate" Nick Fury.

"I didn't see The Avengers yet," Hasselhoff admitted to Movieline while discussing his appearance — as David Hasselhoff — in the R-rated sequel Piranha 3DD. "I love Sam Jackson, but you know… my Nick Fury was the organic Nick Fury that was written and discussed with Stan Lee before anyone got in there to change it. Nick Fury was written to be tongue-in-cheek, and he had a cigar in his mouth, he was a tough guy — he was cool."
Hasselhoff says he had earned Lee's praise for his turn as Fury, who comes out of retirement in the 1998 film Nick Fury: Agent of S.H.I.E.L.D. to battle HYDRA. So he was a little miffed to learn the character would be portrayed by someone else — even if that someone was Jackson.
"Stan Lee said, 'You're the ultimate Nick Fury,'" he remembered. "Avi Arad, when they bought it, said, 'Don't worry, you're going to be the Nick Fury forever,' and they lied. [Pause] But that happens to me all the time. That's when you realize life isn't fair."
Hasselhoff, meanwhile, has been trying to revive another of his past projects anew — not Baywatch (alas!), but Knight Rider — his popular '80s series co-starring a tricked-out, artificially intelligent car named KITT. Numerous attempts to revive the series in film and television form have been made in the years since Knight Rider went off the air (including, most recently, a 2008 TV series that lasted one season), but the latest iteration — a film adaptation, currently at the Weinstein Co. — is what Hasselhoff has his sights set on.
In fact, he told Movieline, it's the Weinstein Co.'s Knight Rider film that helped entice Hasselhoff to take part in Piranha 3DD. "Bob Weinstein called me and said, 'Come on, man — if you do this movie and it does really well, I'll put you in Scary Movie," Hasselhoff said, "'and then we own Knight Rider, maybe we can put you in the Knight Rider movie…'"
Still, Hasselhoff wouldn't mind finding his way back into the Marvel fold — perhaps in Avengers 2? "I had a blast playing Nick Fury," he said. "And if it ever came back and Nick Fury has a brother — Dick Fury? — I'd be there."
Follow Jen Yamato on Twitter.
Follow Movieline on Twitter.