Stan Lee Vs. Stan Lee: The Epic Legal Follies of a Comics Mastermind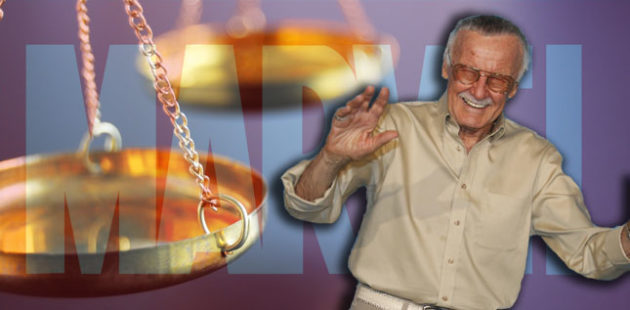 In February, a federal court threw out a suit filed by Stan Lee Media Inc. against Paradox Entertainment — a failed attempt for the plaintiff to regain the intellectual-property rights of the Conan comic character. It might seem odd enough that a company sues for a claim to the proceeds of a film that lost tens of millions of dollars last summer, but odder still is that Stan Lee himself — the comic-book mastermind responsible for The Avengers, X-Men, Spider-Man, and hundreds of other iconic characters — was neither the plaintiff nor the defendant in that suit.

As has been the case for over a decade, the legal wrangling surrounding Lee has been as convoluted and nonsensical as the script to Elektra, and it will only get more confounding on Thursday, when a new federal case comes to trial pitting SLMI against its namesake himself. That's right: Stan Lee Media is suing Stan Lee over characters created by Stan Lee.
Figuring out how an individual becomes a defendant in a case filed by the company bearing his name is an effort nearly as heroic as his own characters' feats. It involves Lee bouncing between companies during repeated bankruptcies and determining where he was when activities took place. It also involves a company refusing to back down despite losing numerous judgments, and despite the exodus of the eponymous leader.
Much of the acrimony dates back to the 1990s, when Lee was still the figurehead at the then-struggling Marvel. Throughout that decade the comic company over-leveraged acquisitions and hemorrhaged enough money to land in bankruptcy. By 1998, the company used that proceeding to end Lee's contract of $1 million annual salary for life. Stan Lee left Marvel and started a new company, Stan Lee Entertainment (soon becoming SLMI) as a way to maintain control over his intellectual property. The company was started by Lee with a close friend, Peter F. Paul — a man with a checkered history of federal drug and conspiracy convictions for crimes including, but not limited to, selling $8.7 million worth of "nonexistent coffee" to Fidel Castro. Paul was to have an equally troubled future that would soon ensnare his new partner Lee.
Initially the company made an impact with online animated comics, developing new characters on Web sites with the expectation of spinning them off into various media. The company enjoyed initial success. The creation known as The 7th Portal, for starters, had been acquired by Fox television for foreign broadcast, and was featured as a 3-D attraction for Paramount Theme Parks.
Like so many digitally-based companies of the era, SLMI foundered with the bursting tech bubble. Then, after Peter Paul secured a bridge loan to prop up the struggling enterprise, he and numerous board members dumped large amounts of holdings ahead of the ultimate stock collapse. The Securities and Exchange Commission feared insider trading, and Paul feared the SEC — so he fled for Brazil. The company's stock price plunged to $.13 per share by the end of 2000, and it filed for bankruptcy in February 2001.
Two key events occurred during this time. Sensing both SLMI's downfall and encroaching legal troubles, Lee founded POW! Entertainment — a new company that was strictly his own. He transferred the rights of his properties to POW! during bankruptcy and then departed SLMI. Additionally, in November of 2000, SLMI had negotiated for ownership of the Conan franchise. This came from purchasing all outstanding shares of rights-holder Conan Properties in exchange for SLMI stock, with a minimum price attached. It didn't take long for this deal to become compromised: The next month, following the stock dump by Paul and other officers, SLMI was delisted from trading by NASDAQ. Sitting in possession of worthless holdings, Conan Properties sued for a reversal of the sale, and in 2002 a bankruptcy court returned the rights to the company. (It eventually sold those rights to Paradox, a Swedish entertainment entity which shepherded the latest Conan film to the screen with Lionsgate.)
The latter events coincided with Marvel's incredible comeback. Led by Vice Chairman (and longtime Marvel power broker) Isaac Perlmutter, the company had climbed out of bankruptcy by licensing the film rights for several of its highest-profile characters including Spider-Man (which Sony would soon develop into a box-office behemoth), X-Men and the Fantastic Four (both successfully adapted by Fox). In light of this swift, lucrative reversal of misfortune, Lee brought suit against Marvel for terminating his contract and demanding payment on the promise of 10 percent of profits earned by characters of his creation. Yet even while he pursued this lawsuit, Lee — and his intellectual property — returned to Marvel.
Here is where the dispute regarding rights to Lee's characters, and whether they ever actually left Marvel, is focused — a dispute SLMI has been trying to win for years and which this week's trial will attempt to settle once and for all. In 2005, Marvel and Lee settled their case before going to jury; the court records were sealed, although Marvel later reported a $10 million write-down with regard to Lee. Meanwhile, that same year, Peter F. Paul was extradited from Brazil, earning four years of house arrest and 10 years imprisonment after separate plea deals in his SLMI stock-manipulation case. Once he returned to the States, a new group of his acolytes organized as board of directors for SLMI.
Since then the company has been rather adept at filing — if not quite winning — lawsuits. Routinely, its legal attempts at securing the rights to comic characters have been denied or dismissed entirely in courts from New York to Los Angeles to Colorado. One suit sought to unseal the 2005 Lee/Marvel settlement in search of proof that Lee left Marvel in 1998 with the rights to his characters. Such a discovery would seemingly prove that Lee brought those rights to SLMI after Marvel spiked his contract and before fleeing SLMI with them illegally. Ultimately SLMI wants to prove that Lee was colluding with Marvel to cover the rights transfer in their 2005 settlement, thus entitling Marvel to full rights while Lee shared in huge profits.
In dismissing that case in February 2011, U.S District Judge Robert Sweet summarized the lack of standing SLMI held as the intervening party, writing, "Their alleged mutual misrepresentations regarding the action's real party in interest, and their mutual mischaracterization of the nature and effect of the Marvel/Lee Employment Agreement have not been established."
Lack of standing has done little to stop SLMI in its legal lurches. It took nine years following the bankruptcy ruling before the board decided to spring up suddenly with its claim to the rights of Conan; it cannily filed that lawsuit the very day Conan debuted in theaters last August. The judge in that case last month rejected the company's claims, stating that SLMI could not demonstrate proper standing and harm. That makes sense: The company dissolved one month following the Conan rights deal and had no funds to create any product; hard to show harm when you have nothing to show at all.
Rather than a formidable archenemy from Lee's imagination, Stan Lee Media Inc. instead resurfaces with all the predictability and impotency of a villain defeated repeatedly in a serialized superhero saga. Nevertheless, SLMI forges ahead undeterred with its legal process — largely because the company has nothing to lose; it has not produced anything in over a decade. It doesn't even have a functioning Web site. Making a play for some of the most lucrative properties in Hollywood is all Stan Lee Media Inc. has in its arsenal, and the potential windfall is enough to motivate continuous torts. In a bit of understatement, Judge Sweet alluded to this possible perpetuity when he wrote, "Because of the success of the characters and the conflicting claims concerning their rights, it has been difficult to achieve finality."
Should a loss in this week's case send SLMI away for good, it still won't be the end of the lawsuits regarding these properties. The estate of Jack Kirby, a former collaborator of Lee, has also taken to the courts regarding copyrights of characters he also had a hand in creating. Expect Marvel and its corporate parents at Disney to be gathering an Avengers team of lawyers in their defense for years to come.
Brad Slager has written about movies and entertainment for Film Threat, Mediaite, and is a columnist at CHUD.com. His less insightful impressions on entertainment can be found on Twitter.
[Photos via Shutterstock; Illustration: Movieline]