Take the Bill Murray Tour of the Moonrise Kingdom Set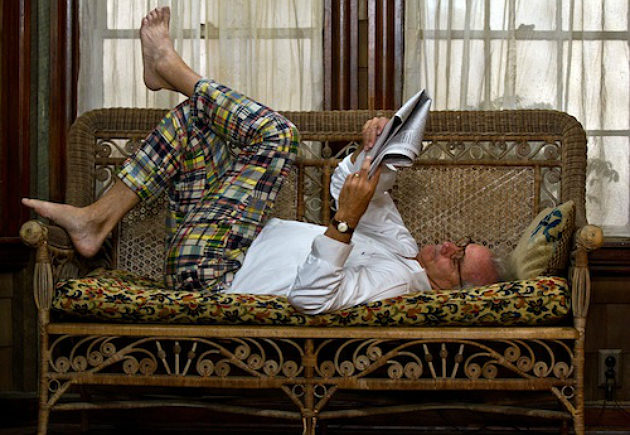 After debuting at Cannes, Wes Anderson's latest offering Moonrise Kingdom hits limited release in New York and Los Angeles this week. You've seen the twee snippets previewing the tale of young puppy love in flight, circa 1965. You've pored over the visual charm assault that is its poster. Now let co-star Bill Murray be your guide — wearing patchwork madras pants, with a little bit o' rum in his belly — through the New England set of Moonrise Kingdom.

Among Murray's observational insights: Anderson's characters wear their pants flooded because that's how the director dresses himself! It's all clicking into place. "He likes everyone in the film to wear their pants really short to look just a little bit like the kind of person you'd like to mug." Wes Anderson Chic, whittled down to its base elements.
Moonrise Kingdom is really quite lovely and charming and sweet, but then I'm a sucker for Wes Anderson and angsty adolescents and little girls who listen to Francoise Hardy. The synopsis:
Set on an island off the coast of New England in the summer of 1965, Moonrise Kingdom tells the story of two twelve-year-olds who fall in love, make a secret pact, and run away together into the wilderness. As various authorities try to hunt them down, a violent storm is brewing off-shore -- and the peaceful island community is turned upside down in more ways than anyone can handle. Bruce Willis plays the local sheriff. Edward Norton is a Khaki Scout troop leader. Bill Murray and Frances McDormand portray the young girl's parents. The cast also includes Tilda Swinton, Jason Schwartzman, and Jared Gilman and Kara Hayward as the boy and girl.