The Joys of Being John Malkovich on Criterion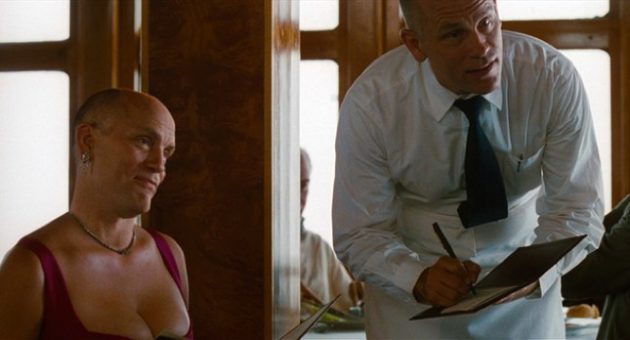 The Film: Being John Malkovich (1999), available today on Blu-ray and DVD via The Criterion Collection
Why It's an Inessential Essential: It's strange to think that a film with John Malkovich's name in its title isn't really considered to be "a John Malkovich movie." Instead, Being John Malkovich is understandably normally associated with screenwriter Charlie Kaufman and director Spike Jonze, both of whom really broke out thanks to BJM's success. While Jonze reveals on The Criterion Collection's new audio commentary track that he and Kaufman were dead-set on getting Malkovich for the film, Being John Malkovich could really be about any celebrity. At the same time, that's one of the many things that's funny about Being John Malkovich: It's a metaphysical black comedy about what people projecting things onto celebrities that don't necessarily have anything to do with those celebrities.

Malkovich just happens to be the guy whose mind Schwartz (John Cusack) and his vampish colleague Maxine (Catherine Keener) invade after they inadvertently discover a miniature portal into his head, and so his comic performance is consequently often overlooked in discussions of the film. He's the biggest butt of Kaufman and Jonze's jokes (I love when Maxine casually insults him by saying that he has a "too-prominent brow"), but he also reaffirms his fantastic comic timing, as when he cops a feel after ineffectually cooing to Maxine, "Shall we away to the boudoir?" Malkovich also demonstrates a deceptively subtle knack for physical comedy, like when he gives a buffoonishly perplexed look after being told by a date that he's "creepy." In a moment's time, he scratches his head and tucks his lower lip beneath his teeth. It's pretty hilarious because it's done with such sly conviction.
How the DVD Makes the Case for the Film: Criterion includes a number of great little behind-the-scenes on its new two-disc DVD set. In an interview with comedian John Hodgman, Malkovich reveals that when he was first given the script, "I saw the title and didn't really think much about it." He then initially turned the project down at the behest of his producing partner Russ Smith, who wanted Kaufman and Jonze to make the film "about" someone other than Malkovich. Later, Malkovich was taken aside again by Francis Ford Coppola and introduced directly to Jonze, whom Coppola said "everyone would [eventually] be working for."
According to Malkovich, after he signed onto the project, Kaufman apparently cut "some of the worst jokes about me — meaning the most cruelest ones," from the screenplay. "I like those jokes," he tells Hodgman nonchalantly. "I think they're really funny." Ironically, while Malkovich says that the film, "isn't at all about me, it's about people's perceptions of me," he apparently suggested that Charlie Sheen play his character's best friend in Being John Malkovich. (Kevin Bacon had apparently already turned down that role.) But Malkovich had never met Sheen until that point; he just "struck me as the kind of person I would go to in an existential crisis."
Other Interesting Trivia: There's a really bizarre and hilariously unfocused audio commentary track on disc one, where Michel Gondry, who was originally supposed to direct the film (he would later work with Kaufman on Human Nature before their Oscar-winning collaboration Eternal Sunshine of the Spotless Mind) talks about everything but the film. At one point, he calls Spike Jonze up and jokingly browbeats him to confess that he fell in love with Keener on set. This is after Gondry wonders aloud if the cameraman got a boner when filming a POV shot from Malkovich's perspective while he has sex with Keener. Gondry dismisses the idea that Malkovich became aroused by Keener but still insists that the cameraman and the director must have gotten sprung. I wonder what Malkovich thinks…
PREVIOUS INESSENTIAL ESSENTIALS
The Last Temptation of Christ
The Sitter
Citizen Ruth
The Broken Tower
Dogville
Night Call Nurses
Strange Fruit: The Beatles' Apple Records
Jeremiah Johnson
Simon Abrams is a NY-based freelance film critic whose work has been featured in outlets like The Village Voice, Time Out New York, Vulture and Esquire. Additionally, some people like his writing, which he collects at Extended Cut.