GALLERY: Guess Who Out-Weirded Johnny Depp and Co. at the Dark Shadows Premiere?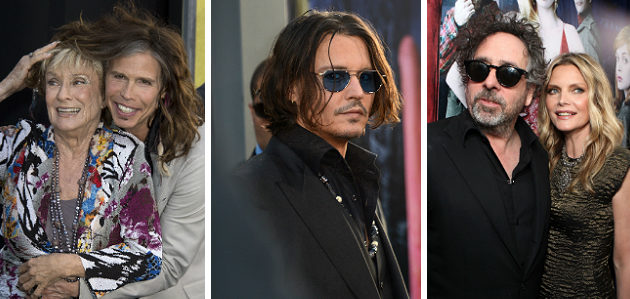 Between Johnny Depp, Tim Burton, and the reliably bizarro fashion statements of Helena Bonham Carter, the Dark Shadows premiere promised a veritable feast of eccentricities. But guess what? The best and weirdest photo ops from last night's to-do came not from the aforementioned mavens of macabre (granted, HBC was M.I.A.), but from the bizarre antics of an unlikely duo whose red carpet shenanigans made Burton and his cast of lovable weirdos look downright... mundane.

Unexpected smooches, yoga poses, the good ol' bunny ears photo bomb -- if it was slightly awkward or distracting, premiere guests Cloris Leachman and Steven Tyler were involved. Who knew they'd make such an electrifying couple? To quote the film's tagline, "Strange is relative." Indeed.
But don't take my word for it. Browse Movieline's gallery from the Dark Shadows premiere to see Depp, Burton, co-stars Michelle Pfeiffer, Eva Green, Jackie Earle Haley, Bella Heathcote, Chloe Moretz, and composer Danny Elfman smile for the photogs as Hurricane ClorVen (Stevris? Leachler?) steals the spotlight. Even Alice Cooper didn't seem to know what to make of it, and that's saying something.
Click for images from the Dark Shadows premiere.