And Now, Darren Aronofsky Directs J. Lo In A Commercial For Kohl's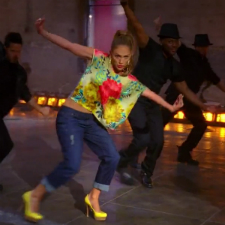 When Darren Aronofsky directed a sumptuous Revlon commercial for mascara last year I called it his "least-daring work to date," but now comes a new project to trump that dubious accomplishment. Behold, the Oscar-nominated Black Swan director's gripping ad for Kohl's department store featuring J. Lo singing and dancing to a Kiki Dee cover song, a video that makes Jessica Biel plumping her lashes look like Requiem for a Dream.


Kohl's "Classic. Remixed" from H.K. McCANN on Vimeo.
Oh, Darren. Can we go back to those meth PSAs and pretend this never happened?
[MediaBistro via Vulture]