Harrison Ford's Long History of Hating Star Wars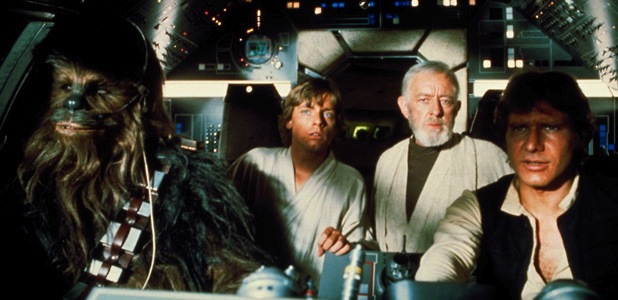 While the world was watching Conan O'Brien's debut on TBS, David Letterman was having a pretty epic conversation with Harrison Ford, and yes, that galaxy far, far away came up. Every time there's even a remote possibility that I might have to interview Ford (it's never happened), I'm immediately immersed in an internal tug of war over the thought of bringing up my favorite movie of all time, The Empire Strikes Back, in his presence. After watching Ford on Letterman last night, however, there's no way in hell I would ever broach that subject.
Ford HATES Talking About Star Wars
I've heard through the grapevine more than once that Ford is not a fan of the subject of Star Wars. I was told that before the 30th anniversary party for The Empire Strikes Back earlier this year, Ford was sarcastically trying to build excitement amongst people he would meet by promising, "The guy in the dog suit will be there." No matter how he really feels about the saga personally, there's no doubt whatsoever that he hates talking about it. Remember, even back in when he was filming the original Star Wars, Ford famously said, "George, you can type this sh*t, but you sure can't say it." So when watching Ford on Letterman sigh and say, "yeah, yeah," after Letterman called Star Wars "iconic," or Ford referring to his character as Ham Yoyo, that's not really an act.
I should note, after reading J.W. Rinzler's excellent The Making of The Empire Strikes Back, it's shocking how much Ford does care behind the scenes when he is on set. But even in earlier interviews, when Ford was promoting Return of the Jedi, he does everything he can possibly do to restrain himself from rolling his eyes when asked how much of Han Solo he takes home with him at night.
The First Time Letterman Mentioned Star Wars to Ford
It's funny to compare and contrast last night's Letterman interview with the first time these two met in 1982. Ford was promoting Blade Runner and after Letterman brought up Return of the Jedi, there was no cute, awkward banter between the two. Ford dodged the question and then, literally, jumped from his seat and left before the commercial break even started.
Did Harrison Ford Like Star Wars At Any Point?
Maybe this is video evidence of the last time Ford looked happy discussing Star Wars. Maybe, just maybe, the turning point for him was during this Today interview before the release of Empire. Perhaps Ford hit his breaking point while listening to Mark Hamill explain how he chose to play Luke in the first one versus how he played Luke in the sequel. Honestly, you can almost watch Ford transform in front of our eyes from a affable fellow to the grumpier version -- at least when Star Wars is brought up -- that we know today.
More 'Star Wars':