SUNDANCE: 'Sound City' Premiere Finds Dave Grohl Rocking With Rick Springfield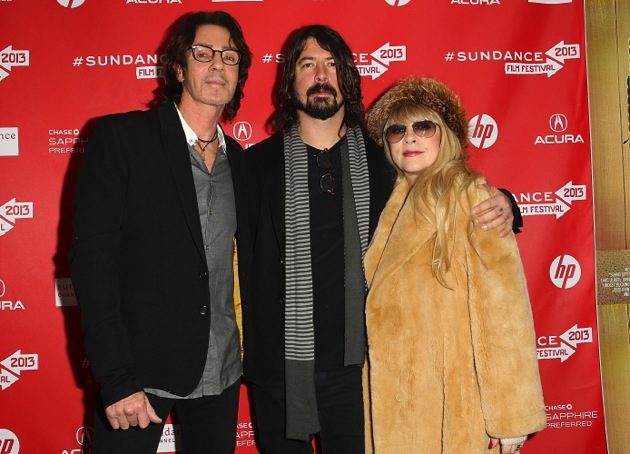 No live music was played, but the Saturday afternoon premiere of Dave Grohl's Sound City documentary — about the fabled-yet-scuzzy Van Nuys, CA recording studio of the same name where Nirvana, Neil Young, Fleetwood Mac, Rick Springfield, Rage Against the Machine and Fear recorded landmark albums — felt like an all-star rock concert.
Fans stood on street corners near the Marc theater, where the film debuted, offering to purchase tickets from anyone with a spare, and the musical artists who turned out to watch the documentary, included former Creedence Clearwater frontman John Fogerty, Grohl's former Nirvana bandmates Krist Novoselic (pictured on the right) and Pat Smear, Fear's Lee Ving, Springfield and Stevie Nicks, most or all of whom are expected to play with Grohl in a live show later tonight on Main Street in Park City.
Before the screening, Grohl called the film "the most important thing I've done artistically," and at the Q&A session that followed the movie, noted that the digital revolution, which transformed music industry (and essentially killed Sound City, which did things the analog way) enabled him to become a filmmaker  and tell the story of the recording studio's rightful place in rock 'n' roll history. "I made a movie. It's shocking, really," Grohl said. "Next, I'll be flying your plane to Dulles."
Grohl and Sound City got an enthusiastic standing ovation at the end, and the people in the audience around me seemed to really be rocking out to a segment that has the surviving members of Nirvana playing with former Beatle Paul McCartney.  The part of the movie that rocked my world, however,  was when Grohl performed the gritty "The Man That Never Was," with Springfield.   Like a number of other performances, the song, which was co-written by Springfield, Grohl and others was recorded on Sound City's fabled Neve console, which the Foo Fighter bought for his own 606 Studios when Sound City closed its doors as a commercial recording business in 2011. Grohl said these songs will be released on a Sound City album in March.
I especially loved it when, after the performance, Nevermind producer (and Garbage drummer) Butch Vig tells Springfield: "You got some darkness in you, boy!"
Springfield also turns out to have been an important part of the studio's history and vice versa. He recorded his 1981 Working Class Dog there, which contained his breakthrough hit "Jessie's Girl."  The success of that album was important to Sound City's success.  Springfield was also managed by Sound City's original owner and even met his wife, Barbara Porter, who was an assistant there.
I'm hoping that Springfield performs with Grohl on Main Street tonight, and that, as a result, Sundance sees a warp in the time-space continuum. See you on the other side.
More On Sound City at Sundance:  
Follow Frank DiGiacomo on Twitter. 
Follow Movieline on Twitter.