SUNDANCE: Rick Springfield's Foo-Tastic Jam With Dave Grohl Tops Epic 'Sound City' Players Concert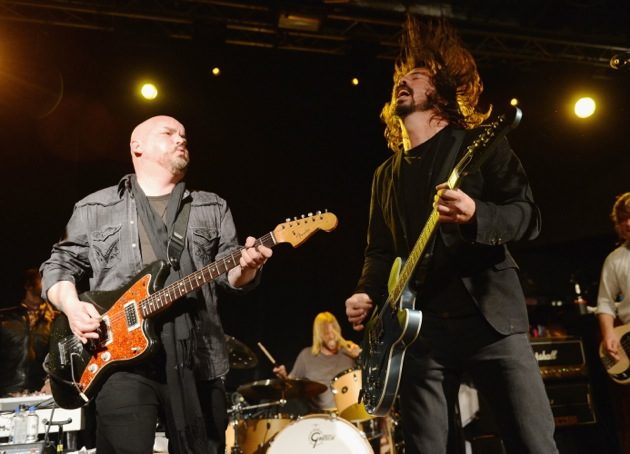 Seeing Dave Grohl and his Foo Fighters play searing rock 'n' roll with onetime teen idol Rick Springfield wasn't exactly on my bucket list prior to Friday night's epic Sound City Players concert, but I will die a happier man now that I've witnessed such an unexpected — and unexpectedly thrilling — team up.
Springfield's set with Grohl and the Foos was the high point of a marathon concert that featured performances by a slew of musical artists who appear in Sound City because of their connection to the now-defunct studio. Among them were Creedence Clearwater Revival frontman John Fogerty, Stevie Nicks, Fear leader Lee Ving,  Cheap Trick guitarist Rick Nielsen, Rage Against the Machine drummer Brad Wilk, Queens of the Stone Age guitarist Alain Johannes, Slip Knot's Corey Taylor, Masters of Reality's Chris Goss and former Nirvana bassist Krist Novoselic, who got a hug from Grohl when he took the stage.
Check out Movieline's Photo Gallery of Grohl and The Foo Fighters' Sundance show.
"It's going to be a long fuckin' night — you know that," Grohl told the audience with a big grin as he and the band took the stage just after 9:30 and invited the first of the night's guests, Johannes, to strap on his guitar. Instead of a tightly curated series of group singalongs, the show became a sprawling series of mini-concerts that focused on the work of the artists who were on stage at that time. For instance, Nielsen's time on stage saw the band — with Grohl on drums, Novoselic on bass and Slipknot's Taylor on vocals — do spirited versions of Cheap Trick's "Ain't That A Shame" and "Surrender," the latter with the participation of the well-lubricated crowd , which offered up the "Mommy's all right, Daddy's all right, they just seem a little weird," portion of the chorus.
Springfield's set resonated even more with Sundancers judging from how violently their dancing and jumping shook the club's floor.  It was an extended moment of pure rock bliss in which all the labels that get applied to music in terms of what's cool (Foo Fighters) and what's not (Rick Springfield) fell away and infectious, enduring pop music was celebrated for its essence. Grohl introduced the former General Hospital actor as "the one, the only, fucking Rick Springfield," and the band played together on a number of the former pop star's 1980s radio hits, "I've Done Everything For You," "Love Is Alright Tonite" and "Jessie's Girl." And watching the beatific look on punk pioneer-turned-Foo-Fighter Pat Smear's face as he played along to these Top 40 hits was indisputable proof that a good song is a good song.
As Grohl said archly between songs: "You've cracked the code, Rick Springfield. You've figured out how to write the perfect song. Goddamn you."
Meanwhile, Springfield rose to the occasion of playing with one of the most balls-out rock bands in show business. In Sound City, he reveals somewhat sheepishly that Pat Benatar's husband Neil Giraldo was pulled into the recording studio to lay down the famous guitar riff to "Jessie's Girl" because the song's producer didn't think Springfield's playing was up to snuff."  But that humiliation was very much in the past at Friday's concert. Onstage at Park City Live, Springfield behaved like a bona fide guitar god as he traded licks with Grohl.
The Foo Fighters and their enthusiastic leader would play on long after Springfield left the stage — and a remark by one of the evening's grizzled rock veterans put the concert and the movie that spawned it in perspective.  John Fogerty was the next-to-last guest star on stage, and during a set that included CCR's "Born on the Bayou," "Bad Moon Rising" and "Fortunate Son," he told the crowd that the Sound City documentary and concert had come together because of Grohl's "almost child-like love of music."
May he stay forever young.
More on Sound City:
Follow Frank DiGiacomo on Twitter.
Follow Movieline on Twitter.