Poster Debut: Kaya Scodelario in 'Emanuel And The Truth About Fishes'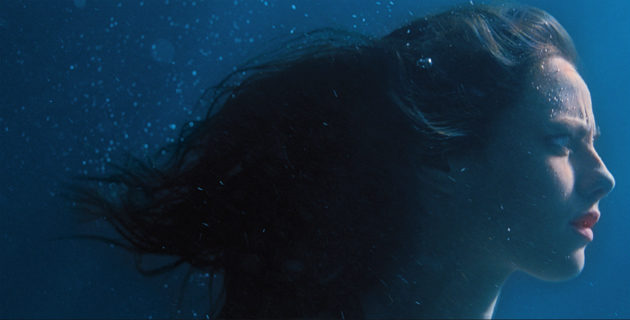 Rising U.K. actress Kaya Scodelario (Skins, Moon, Wuthering Heights) stars as a teenager who strikes up a friendship with her mysterious neighbor (Jessica Biel) in the drama Emanuel and the Truth About Fishes, which premieres in competition at the Sundance Film Festival. Movieline's got your first look at the poster for the surrealism-tinged thriller featuring Scodelario, who will be one to watch this month in Park City.

Scodelario's been an intriguing new talent since breaking out on the original Skins, the kids-behaving-badly hit U.K. series that inspired Project X-esque mayhem in suburban England and inspired a terrible American knockoff series on MTV. She appeared in Duncan Jones' Moon and briefly in Clash of the Titans, but earned critical acclaim last year as Catherine in Andrea Arnold's Wuthering Heights, and for a good while had considerable fan support vying to play the role of Katniss Everdeen in The Hunger Games which eventually went to Jen Lawrence.
Emanuel should help Scodelario bolster her presence stateside (she also appears in the as-yet unreleased in the U.S. drama Now Is Good, AKA The One Where Dakota Fanning Has Cancer And A British Accent), and it also adds some zest and indie cred to co-star Biel's filmography following a varied year marked by the indie horror The Tall Man, the sci-fi remake Total Recall, awards hopeful Hitchcock, and the Gerard Butler vehicle Playing For Keeps.
Alfred Molina, Frances O'Connor, Jimmi Simpson, and Aneurin Barnard also star in the pic from director Francesca Gregorini, who previously co-wrote and co-directed the girls school drama Tanner Hall. Check out the full hi-res poster debut below and stay tuned for Movieline's coverage of the Sundance Film Festival, held January 17-27.
Synopsis:
A troubled girl Emanuel (Kaya Scodelario) becomes preoccupied with her mysterious new neighbor (Jessica Biel), who bears a striking resemblance to her dead mother. In offering to baby-sit Linda's newborn, Emanuel unwittingly enters a fragile, fictional world, of which she becomes the gatekeeper.
More info at the Sundance Film Festival website.
Follow Jen Yamato on Twitter.
Follow Movieline on Twitter.