Dakota Fanning Has Cancer (and a British Accent) in Now Is Good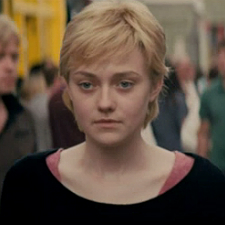 Young adulthood has seemed to suit Dakota Fanning well, as the now 18-year-old has embraced her transition out of childhood with a number of ballsy, mature moves. The latest in her career progression? Tackling the two-fold challenge of playing a dying cancer patient and sporting an English accent, as seen in the trailer for Now is Good. Try to ignore the Mia Wasikowska vibe emanating from Fanning (and the spectre of Mandy Moore, who did this already in the Nicholas Sparks pic A Walk to Remember, if you remember) after the jump.

In the film, based on the 2007 YA novel Before I Die, Fanning's a 17-year-old leukemia patient who decides to waive treatment as her condition gets worse in order to live life to the fullest, etc. Is she spunky in the face of impending death? Yep! Will she inevitably teach those around her lessons on how to live fully? I mean, of course. Is Fanning's Brit-speak a bit wobbly but nonetheless confident? Absolutely.
War Horse's Jeremy Irvine co-stars as the boy Fanning wants to cross off her bucket list, if you catch my drift. Kaya Scodelario of Skins fame also co-stars, which excites me even though she's nowhere to be seen here. I'm curious to see less of Fanning gleefully indoor skydiving and more of her breaking the law, having sex, getting into trouble thanks to the license terminal illness gives her character to pack a lifetime of risky, thrill-seeking behavior into a truncated last hurrah, but maybe that's just me. The film is due stateside in 2012.
[Yahoo!]