Let's Have A Big Hand For The Sexiest Movie Trends of 2012!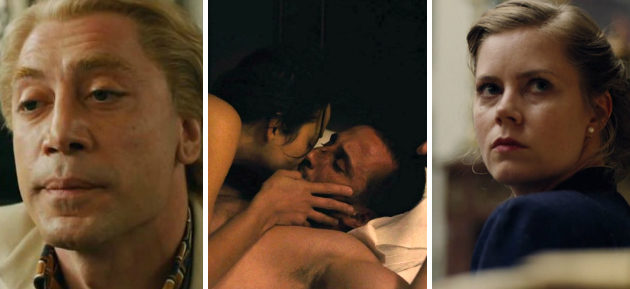 We can all agree that 2012 has been an excellent year for the movies, but the more salacious among us will note that it's been an awesome year to perv out at the movies. Although we didn't get another look at the Fassmember and all the conflicting feelings it brought up (Hotness! Confusion! Embarrassment at being psyched to see him naked in Shame when actually it's really f***ing depressing!) there were some rather interesting trends that reared their heads that invite a closer look. Whether studios are getting braver or filmmakers are getting bolder is a debate for another time — and please don't suggest that 50 Shades had too much to do with it. Let's salute all the sexin' that happened onscreen in 2012.

Hair Here, There, and Everywhere
Merkin-makers must have been counting their coins this year because going au naturel was all the rage, although I'm sure that the Brazilian waxers weren't going hungry either. Neither of the leading ladies in Killer Joe kept their pants on the whole time, which wasn't too much of a shock given director William Friedkin's bold career. (Cruising, anyone?) The very first scene puts us — and Emile Hirsch — face to face with Gina Gershon's lustrous bush* as Gershon throws open the door to the family trailer wearing nothing but a T-shirt.
Juno Temple is probably the most naked, though, as the uncomfortably young and dotty Dottie, who's given to Killer Joe (the frequently shirtless Matthew McConaughey) as a retainer until her brother and dad can pay him for killing their mother. (Got all that?) I'm not sure if Dottie is psychic and otherworldly or, you know, touched in the head, or even if she's of age, but let's get back to that later in the "Is This Even Legal?" section.
*(Actually a merkin, as per this interview.)
In the slightly more matter-of-fact dramedy The Sessions, Helen Hunt sheds her clothes in a professional manner as a sex surrogate hired by a man who's spent most of his life in an iron lung. Some critics have commented that it seems unfair to show Hunt's character completely nude while John Hawkes remains covered, but even Hawkes would have a hard time pulling off a nude scene as a paralyzed polio survivor.
Sarah Polley's Take This Waltz kept it casual when it came to the full frontal females. After an apparently hilarious incident of pool-peeing, Michelle Williams and Sarah Silverman enjoyed a tête–à–tête in the communal YMCA showers with a whole bunch of other ladies from their water aerobics class. Although I've never enjoyed a chill convo with my shower neighbors at the gym, I did appreciate finally seeing a wider variety of female bodies on screen. The extras were different ages and ethnicities, shapes and sizes, and they were just doing what bodies do when they're not on sexual display. They all seemed a lot less pissed than I would have been if some yahoo had ruined my water aerobics class, too.
Coming in Handy
Handjobs aren't just for high school any more, y'all. In fact, some of the most highfalutin films of the year show or imply manual stimulation. There was all sorts of snickering among the less mature among us (ahem) about masturbation in The Master, wherein the sort-of-but-not-really L. Ron Hubbard stand-in played by Philip Seymour Hoffman gets an almost stern handjob from his wife, Oscar hopeful Amy Adams. Seriously: that didn't look like much fun.
Hyde Park on Hudson gives a new meaning to kissing cousins when FDR's "distant cousin" Margaret Stuckley (Laura Linney) gives a surreptitious hand to the cigarette-chomping prez, played by Bill Murray. The less said about this, the better.
It's not even clear what to call the scene in Holy Motors when Monsieur Merde (French for shit, for those of you playing at home) suffers from some sort of ecstatic priapism in the presence of a gorgeous fashion model played by Eva Mendes.
But let's not leave out the ladies! There was nothing quite as steamy as Gina Gershon subtly but skillfully manipulating Jennifer Tilly in Bound (under the tutelage of Susie Bright, who was a consultant on the early Wachowski film), but it seems practically greedy to ask for that much hotness once every decade or so. However, the sweetly sexy Hello I Must Be Going does have a hot and heavy make-out scene between freshly divorced Amy (Melanie Lynskey) and younger man Jeremy (Christopher Abbott of Girls) that involves some deft fingerbangin'. Sisters don't always have to do it for themselves, you know.
Homoerotic Tension
It seems like folks were waiting on tenterhooks to see Kristen Stewart joyfully jack off Sam Riley and Garrett Hedlund in On the Road, but the real hotness in that movie is Hedlund's portrayal of Dean Moriarty's playful pansexuality. His toothy, mischievous grin reels in not just the ladies but soulful men like Tom Sturridge's Carlo Marx, a stand-in for Allen Ginsberg. And honestly, I don't believe for a second that Marylou (Stewart) was the only one who wanted that threesome with Sal (Riley).
Movieline has already explored the bondage-y vibe between James Bond and Skyfall villain Silva, which gave many viewers all sorts of naughty thoughts about Javier Bardem and Daniel Craig.
I'd be seriously remiss if we left out Ezra Miller, the freaky fashion plate who came out as queer in a delightful Out magazine feature. As Patrick, Miller is the best part of The Perks of Being a Wallflower, and not just because he's the best Frank-N-Furter this side of Tim Curry. (Those gams!) The tumultuous relationship he has with a closeted schoolmate is heartbreaking and the realest part of this YA adaptation. Also, he is extremely hot, and I don't care if that makes me a dirty old lady.
Plenty of people fall in love at the office, and in About Cherry, their office is a porn studio, filmed at Kink.com's headquarters at the Armory in San Francisco. Young porn starlet Angelina (Ashley Hinshaw) and director Margaret (Heather Graham) feel the heat when Rollergirl gets behind the camera for a movie, but it's not until they break up with their respective significant others that they become a sexy power couple.
Jack and Diane is full of smoldering teen lust, and Riley Keough is fully channeling her grandfather Elvis as a young soft butch falling for Brit pixie Diane, played by Juno Temple. There's lots of smooching and yearning and whatnot, including an ill-fated attempt at shaving Diane's pubes, but there's also a werewolf interlude because teenage lust can be scary or something.
NEXT: First timers, role-playing, and Rust & Bone
Pages: 1 2