Let's Have A Big Hand For The Sexiest Movie Trends of 2012!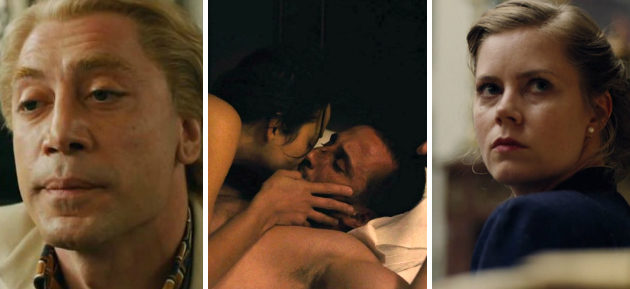 Figuring It All Out
It wasn't a bad year for women to explore their nethers, either, whether they were experimenting with themselves or others. Turn Me On, Dammit! stars newcomer Helene Bergsholm as Alma, a hilarious and horny Norwegian teen who's caught calling phone sex lines with her hand down her pants, among other shenanigans. Goodbye First Love was a more melancholy look at sex and heartbreak, whereas Attenberg was confusing for everyone involved: Marina (Ariane Labed) spends a fair amount of time trying to figure out how to French kiss with help from her more experienced best friend, and she eventually embarks on a matter-of-fact mission to lose her virginity with an engineer played by director Giorgos Lanthimos and his foreskin.
However, no one — and I mean no one — was more flustered by his first time than Forrest Bondurant in Lawless. Tom Hardy plays Forrest like a mother hen tending to her brood of moonshine-making chicks, so he hasn't had much time for the ladies. Hardy says more with one Bondurant grumble than he did in all of The Dark Knight Rises, and when he's totally flummoxed by beautiful Maggie Beauford striding to his bed in the nude, the most he can muster up is, "Whatchoodoin?" It is a scene I would watch over and over again.
...Is This Even Legal?
As I mentioned before, the relationship between Dottie and Joe in Killer Joe is all sorts of uncomfortable. Matthew McConaughey plays the killer copper Joe and Dottie is his to do with what he will until her brother and father pay for services rendered, which, given what wackos they are, seems rather unlikely. Joe's seduction of Dottie lives in a very grey area; it's not explicit how old Dottie is — possibly 19 or 20, although she looks much younger — and her ability to give consent is unclear, so when she and Joe roleplay that they're both 12, it is a very squicky feeling indeed. In fact, if you're not paying attention, you could miss that they're roleplaying, except for the fact that McC is obviously a grown (and completely freaking crazy) man. (Is this what being Catholic feels like?)
Thankfully, fantasizing isn't a crime, and that's good news for AnnaLynne McCord's Pauline in Excision. In this gory coming-of-age story, Pauline has gruesome wet dreams that look like a cross between Lady Gaga's nightmares and Nekromantik. At the Sundance screening I attended, people began leaving every time Pauline's fantasy sequences began. I white knuckled it.
Rust and Bone Gets Its Own Section Because Goddamn
Marion Cotillard plays a woman who loses her legs to a killer whale during a choreographed performance set to a Katy Perry song, and when she confesses she's worried nothing works "down there," her bruiser of a friend offers his services whenever she wants. I don't have enough exclamation points for this, especially since her casual lover is played by Matthias Schoenaerts, who caught my eye in Bullhead last year with his monstrous, wounded masculinity. His character here, Ali, is not a good guy at all; he has a bad temper, he's totally irresponsible, and he'll basically screw anything that moves. Ultimately he's redeemed, but what's most interesting (and way sexier) is the way that Cotillard shows her character Stéphanie coming back into her own sexuality.
Rust and Bone is about sensuality in the literal sense of the word, and finding the balance between Ali's carnal chaos and Stéphanie's more cerebral approach to life. The digital effects that effectively erase Cotillard's legs from knee down are shockingly good, making their explicit sex scenes all the more impressive. A lesser movie would simply play on our voyeurism and curiosity about how people with different bodies have sex, but given the richness of the story and characters, seeing Stéphanie and Ali get down is more than simply titillating — although it's that, too.
Special mentions:
Most Awkward Prostate Exam in a Movie Vehicle: Robert Pattison in Cosmopolis.
Most Surreptitious Use Of Penis Pump: Joe Manganiello in Magic Mike.
Most Sensible Use Of Golden Shower As Home Remedy: Urine on a jellyfish sting, as we learned in The Paperboy.
Fanciest Mustache Moment: When Keira Knightley licks Aaron Taylor-Johnson's facial hair in Anna Karenina.
Worst Euphemism for Orgasm: "Wargasm" in Savages.
Best Use of Dirty Talk: Take This Waltz's hottest sex scene takes place in a café between two fully clothed people. Smoldering arty neighbor Daniel (Luke Kirby) pulls off some of the hottest explicit aural stimulation as he describes in detail what he'd like to do to the married and oh-so conflicted Margot (Michelle Williams).
Most Impressive Use of All 360 Degrees: Daniel and Margot's time-spanning sex scenes at the end of Take This Waltz, set to Leonard Cohen, of course.
The Moment That Ruined Say Anything Forever: The jailhouse scene in The Paperboy with John Cusack and Nicole Kidman, a whole lot of miming, and one carefully placed wet stain. Argh!
Have I left any good parts out? Add yours in the comments.
MORE BEST-OF 2012:
Mash-Ups, 'Moonrise,' And 'Miami' Connections: Jen Yamato's Top 10 Movie Moments of 2012
Amy Nicholson's / Top 10 of 2012 / Written In Haiku
The Masters: Movieline Critic Alison Willmore's Top 10 Films of 2012
They Turn Us On, Dammit! Movieline Critic Alison Willmore's Top 10 Overlooked Gems of 2012
Follow Jenni Miller on Twitter.
Follow Movieline on Twitter.
Pages: 1 2