Oscar Index: Critics Have 'Amour' For 'Zero Dark Thirty' & 'The Master,' But Who's 'Les Miserables' This Christmas?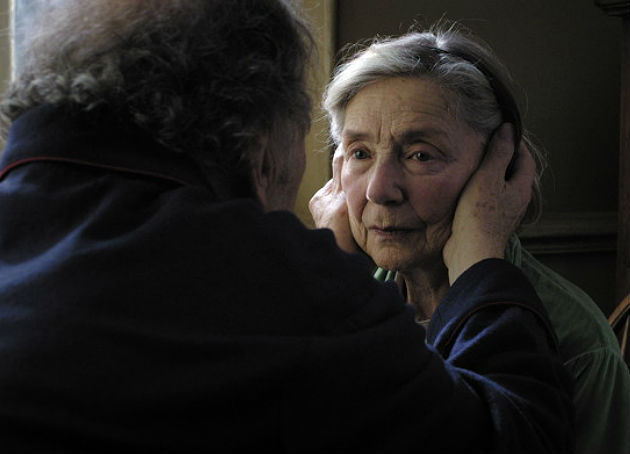 Academy ballots were mailed out last week to 5,586 voting members, the most significant news on the Oscar front. Not that it was a quiet week in Lake Globesbegone. The New York Times' critics A.O. Scott and Manohla Dargis both named Amour 2012's best film, as did the Los Angeles Times' Kenneth Turan. The AP triumvirate of Christy Lemire, David Germain and Jake Coyle anointed Argo, Moonrise Kingdom and Amour, respectively.

The flyover states also weighed in: The Kansas City Film Critics Circle named The Master best film, while the Chicago and Austin Film Critics Associations went with Zero Dark Thirty. The Southeastern Film Critics Association backed Argo, as did the Nevada, St. Louis and Florida Film Critics.
The criticspalooza that is the Village Voice Top 10 poll (86 - count 'em) named The Master best film, while The Atlantic's lone Christopher Orr picked Zero Dark Thirty.
Put them together and what have you got? Mostly Oscar pundits still gobsmacked that Nicole Kidman got a Best Supporting nomination from the Screen Actor's Guild and the Hollywood Foreign Press. The Voice's Michael Musto pondered whether she could be one of a handful of actors to have earned nominations for Oscar and a Razzie for the same performance. In the immortal words of Max Bialystock, "Worlds have turned on such thoughts."
From here on, those little intangibles that John Gavin so rhapsodically preached to Maureen O'Hara about in Miracle on 34th Street (Merry Christmas, by the way) come in to play. Will Academy members filling out their ballots be influenced by Reese Witherspoon's open letter to The Impossible's Naomi Watts ("Not since Meryl Streep's performance in Sophie's Choice…) in Entertainment Weekly, moved by Hugh Jackman welling up during his recent "60 Minutes" interview, or swayed by journeyman character actor Ann Dowd's plucky self-financed campaign to distribute screeners of her career pinnacle performance in Compliance?
Let's go to the Gold Linings Playbook to see how the Oscar field shifted last week. And Academy Members: Complete your ballots before the Jan. 3 deadline, lest you fall off the Oscar cliff.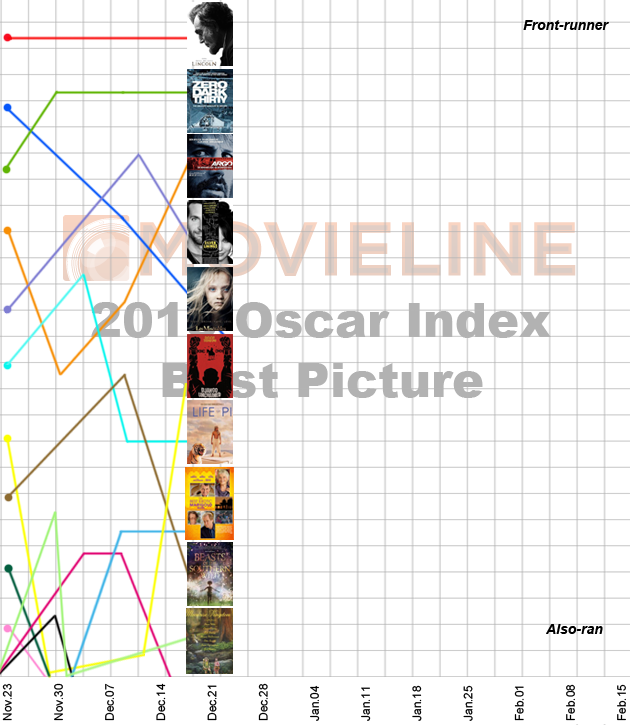 Best Picture
To paraphrase Oscar Wilde, the only thing better than being nominated for a SAG award or Golden Globe is not being nominated. That may be the case for Beasts of the Southern Wild, whose non-union production was deemed ineligible for Screen Actors Guild consideration. It was also snubbed by the Hollywood Foreign Press. Now everyone's talking about the beauty of the Beast and the producers are rekindling adoration for the art house darling with stepped-up promotion.
Zero Dark Thirty and Lincoln remain Best Picture front-runners, but while the former continues to be preoccupied with answering a rising tide of critics ("Senators condemn Zero Dark Thirty torture," reported USA Today) all the latter has to do is look presidential ("Lincoln aims to enlighten as it entertains," praised a Los Angeles Times feature).
Argo, too, is assured a Best Picture nomination, and while Zero Dark Thirty is getting critics awards buzz (as well as detractor's brickbats), Argo, to its credit, has built up enormous good will. It's a rousing, real-life "America, f*** yeah" that Hollywood could still rally around.
Django Unchained's stock with critics continued to rise last week, although Spike Lee set off a Twitter firestorm Saturday when he said that slavery was a holocaust, "not a Sergio Leone spaghetti western" and that he would "honor" his ancestors by not seeing the film. The Drudge Report splashed an incendiary headline across its home page regarding the film's prodigious use of the "n-word." It also remains to be seen how the film's graphic violence will play with audiences in the wake of the incomprehensible tragedy in Connecticut.
1. Lincoln
2. Zero Dark Thirty
3. Argo
4. Silver Linings Playbook
5. Les Miserables
6. Django Unchained
7. Life of Pi
8. Best Exotic Marigold Hotel
9. Beasts of the Southern Wild
10. Moonrise Kingdom

Ones to watch: Amour, The Dark Knight Rises, The Impossible, The Master, Skyfall
Sure, the Golden Globes are Hollywood' most reliable punchline (except maybe for Rob Schneider), but Gold Derby gives them their props as "one of the most reliable Oscar crystal balls." That doesn't bode well for Les Miserables director Tom Hooper, who was snubbed, leaving wiggle room for David O. Russell, but Quentin Tarantino is, as ever, the wild card. Like Spielberg, his name alone has a Hitchcockian mass appeal and recognition. As he observed in his recent Playboy interview, "I was actually quite proud when I read that Django is one of the most anticipated movies coming out this year. It's a black Western. Where's the anticipation coming from? I guess a lot of it is me. That's pretty f***ing awesome."
1. Steven Spielberg (Lincoln)
2. Kathryn Bigelow (Zero Dark Thirty)
3. Ben Affleck (Argo)
4. Ang Lee (Life of Pi)
5. David O. Russell (Silver Linings Playbook)
Ones to watch: Paul Thomas Anderson (The Master), Michael Haneke (Amour), Tom Hooper (Les Miserables), Quentin Tarantino (Django Unchained)