Batman Cameo Rumors Bring Cheshire Smile To Christopher Nolan's Face At Hugh Jackman Salute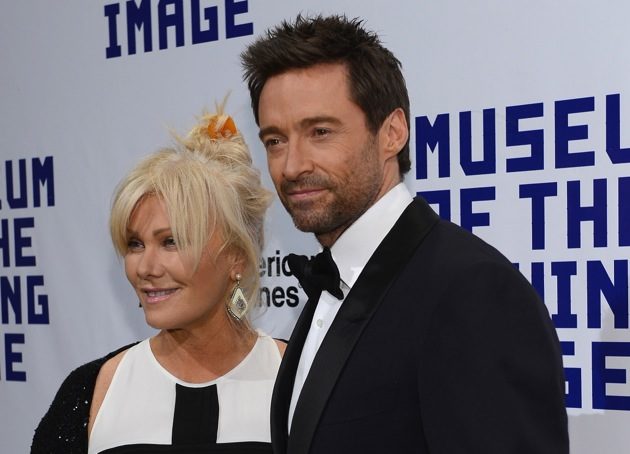 Hugh Jackman is way more emo than I thought.
But I'll get to that in a moment.  Among the filmmakers who turned up to praise the Les Misérables star at the Museum of the Moving Image's salute to Jackman in lower Manhattan on Tuesday night was The Dark Knight Rises director Christopher Nolan who grew an enormous Cheshire-Cat grin when I asked him if the Superman reboot he is producing, Man of Steel, would see a cameo by Joseph Gordon-Levitt, or any actor, as Batman, and if he had any objections to a cameo as a continuity move to tie the Supes movie to the 2015 Justice League movie. 
"I can't talk about that.  You know that," Nolan said cheerily. I didn't know that, actually, but now that I do, I feel compelled to point out that, despite the frustratingly inconclusive nature of his answer, it's not a 'No.'  Yes, JG-L's camp shot down the speculation as "entirely false" back in November, but if the idea had been ruled out, wouldn't Nolan be saying something along those lines, too, so that the fan boys could move on? You know how angry they can get when their casting hopes and dreams are suddenly deflated after being allowed to build for months.
The impish smile on Nolan's face as he issued that no comment also heightened my optimism, especially in the wake of the powerful Man of Steel trailer that's now burning up the Internet. Zack Snyder's take on Superman clearly aspires to have the kind of psychological heft and dark undertones that made The Dark Knight trilogy so satisfying. If the movie attains or even approaches those standards, a JG-L Batman cameo  would not dishonor Nolan's work and it would set the bar high for Justice League . No pressure, Warner Bros.
Nolan, Hathaway, Weisz Honor Jackman At Museum of The Moving Image Fete
Getting back to Jackman, who's on the fast-track to a Best Actor Oscar nomination, Nolan had much more to say about  the actor, who he directed along with Christian Bale in The Prestige.  The filmmaker told guests at the Museum of the Moving Image fete that though "ruthless" is not a word usually associated with Jackman, The Wolverine star is indeed "ruthless creatively" and a performer "driven by intense ambition."  The director also said that he looked forward to working with Jackman again, "probably not on a musical though," despite Jackman's urging him to direct one.
Also praising Jackman were his wife, actress Deborra-Lee Furness, his X-Men Origins: Wolverine co-star Liev Schreiber, director Mike Nichols, former Saturday Night Live cast member Rachel Dratch, who got big laughs mocking Jackman's Australian dialect and  two of his Les Misérables co-stars Anne Hathaway and Eddie Redmayne.
In an effusive, rambling speech, Hathaway called Jackman "deep as the sea."
Rachel Weisz offered up an even more intriguing description of the actor, calling him an "incredible cocktail of light and dark."  She also told the most revealing story of the night:  During the filming of The Fountain, which was directed by her ex-husband Darren Aronofsky, Weisz said that Jackman gave himself so completely to a scene in which his character realizes he's going to die that "he sobbed for about half an hour after the cameras stopped" while Weisz comforted him.  "He'd gone to the deepest, darkest place a person can go," she said. "And he wasn't faking it."
Jackman kept his speech much lighter saying that his Christmas gift wish list was a simple one.   All he wanted, he said, was "a movie with me starring in it to open on Christmas Day."
Follow Frank DiGiacomo on Twitter.
Follow Movieline on Twitter.